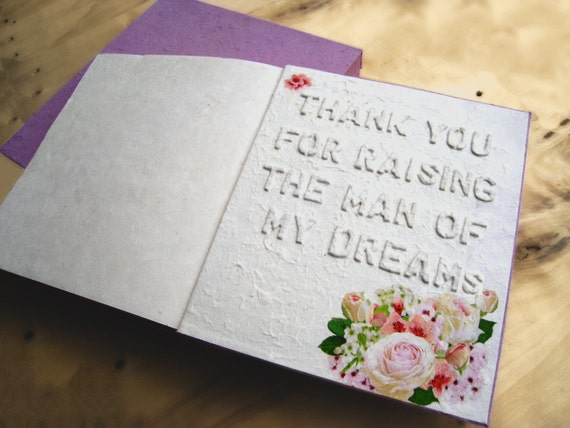 30% OFF Photo Album for In Laws Hidden 'Thank You for Raising the Man of My Dreams' Engagment Birthday Personalized Scrapbook
By Soul Crafty Garden
Product Info
Lilac Photo Album for Mother In Law with Hidden 'Thank You for Raising the Man of My Dreams' embossed at the back of the album
Sometimes thank you isn't just enough, it would be best to express with pictures. This album is handmade with an embossed hidden thank you message for your parent-in-law (PIL) to express your deepest appreciations.
I have did the same before for my best friend's wedding and her PIL was just touched as they flip thru the every single page of the album. Hope it will be as wonderful for yours too.
I would like to share the idea with you here. You may want to divide the scrapbook into 3 sections.
1st section: Well, it is all started of your PIL's story from dating, married, giving birth to a little baby boy ;) (your husband). ~ you may need a little help from your husband to get these photos ~
2nd section : Here come the story of the cute little baby boy turn into a little monster (you know what i mean;p) and then a prince (but not charming yet till he met his princess-you).
3rd section: Where the beautiful princess (you of course ;D ) comes into his life. Here on the last page of the album would be your wedding photo which will be revealed together with the hidden message on the right.
~ The End ~
*** I hope you like my storyline ;) ***
Some detail of the album:
(i) Approximate album size : W 10" x L 10" x D 1.25"
box size : W 10.5" x L 10.5" x D 1.5"
(ii) 20 sheets of handmade thick mulberry papers inset with protecting papers interleaves
(this would leave you ample pages for the story, not too many but just nice for 3 sections)
(iii) Finished with satin ribbon of matching color.
(iv) Weight : 650gram
(v) Comes with storage box with matching color making it a great gift idea. :)
~~~~~~~~~~~~~~~~~~~~~~~~~~~~~~~~~~~~~~~~~~~~~~~~~~~~~~~~~~~~~~~~~~~~~~~~~~~
PERSONALIZATION
Font Type
--------------
1. Amazone
2. Cotillion
3. A Yummy Apology
4. Duchess
5. Commercial Script
6. Regular Arial
~Personalization process~
1. Please leave your "Initial & Date" and font type for your 'Initial' in the "Message to seller" box upon checkout. 'Date' will be ARIAL REGULAR only.
2. I will send you a digital proof, once approved I will start working.
3. That's it!. I'll ship your album within 3-5 business days of final approval.
* Wording will be arrange from top to bottom and left to right.
* Font size for your initial will be adjusted base on the album size.
**** Please leave me your MOBILE NO. / CONTACT NO., this is for the delivery form.
~~~~~~~~~~~~~~~~~~~~~~~~~~~~~~~~~~~~~~~~~~~~~~~~~~~~~~~~~~~~~~~~~~~~~~~~~~~
SHOP POLICIES
Please read my shop policy:
http://www.etsy.com/shop/SoulCraftyGarden/policy
~~~~~~~~~~~~~~~~~~~~~~~~~~~~~~~~~~~~~~~~~~~~~~~~~~~~~~~~~~~~~~~~~~~~~~~~~~~
LET'S BE FRIENDS!
My store will always stock up with interesting items that you could never find it elsewhere. Just visit me at http://soulcrafty.com/facebook