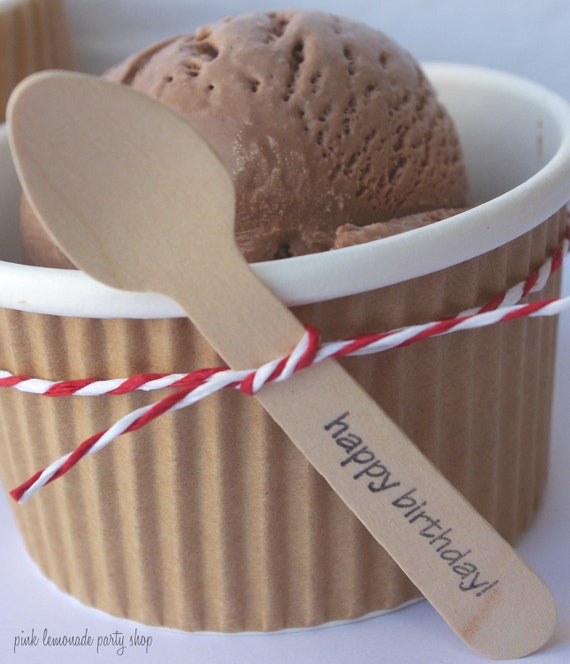 25 ICe CReaM SHoP WooD TaSTeR SPooNs-25ct--use with mini ice cream cups-ice cream sundaes-weddings-birthday parties--handstamped or plain-
By Pink Lemonade Party Shop
Product Info
Ice Cream Shop Wood Taster Spoons-25ct
***CHECK SHOP ANNOUNCMENT for current turnaround time--this is a made to order item***
You will LOVE these adorable little spoons...(small taster size). Shown here with the medium brown kraft cup-sold separately in my shop. Each spoon is approximately 3.5inches.
This listing is for unstamped spoons OR stamped spoons...please leave note in notes to seller with choice of stamp...if nothing is noted, i will assume you want them without a stamp.Please note that these may take up to 10-14days to be READY TO SHIP, as these are all made to order and this is one of my best sellers.
Stamp options are shown below and multiple ink colors available::
we all scream
for ice cream
cold treat
ice cream
ice cream sundae
sweet
cold & DELICiOUS
BRAIN FREEZE
enjoy!
celebrate!
yummy!
PiG OuT
DiG IN
Let's EAT!
let's PARTY!
bon appétit
yummo!
D E L I S H!!!
PaRTy TiMe!
Happy 1st Birthday!
ONEderful!
Happy 2nd Birthday!
TWo and terrific!
Happy 3rd Birthday!
T H R E E!
Happy 4th Birthday!
F O U R!!
Happy 5th Birthday!
give me FIVE!
sweet 16
Happy 16th birthday!
over the hill
the BIG 40
Nifty 50
HaPPy 60th BiRTHDaY!
HaPPY 80th BiRTHDaY!
happy birthday!
happy birthday to you
and many more!!
have your CAKE
and EAT it TOO!
EAT MORE CAKE
CONGRATS!
thank you!
walk the plank
AaaRGH Matey!
C o w b o y
YeeHaw!!
berrylicious
the very HUNGRY caterpillar
chomp! chomp!
Princess
Clean your plate
B L O O M
g r o w
berrylicious
once upon a time
It's a BOY!
Oh BOY!
THINK PINK!
Team PINK
Team BLUE
It's a GIRL!
cutie pie!
hammers,nails&puppy dog TAILS
sugar,spice&everything nice
HAPPY NEW YEAR!
Happy Valentine's Day!
love is sweet
L O V E
first comes Love
Lucky You!
Happy Easter!
BLOOM
grow
Congratulations!
CONGRATS!
God Bless the USA!
Sparkle*
bite me
HAPPY HALLOWEEN!
B O O
HAPPY THANKSGIVING!
give THANKS!
STUFFED
gobble gobble gobble
MeRRY CHRiSTMaS!
happy holidays!
Merry & Bright
PEACE
Sparkle*
NAUGHTY
Nice
Ho! Ho! Ho!
Mr &Mrs
happily ever after...,
love is sweet
SHE said YES
eat,drink &be married
first comes love(heart on the v in love)
L O V E
C O N G R A T S!
Best Wishes!
Sprinkled with LOVE!
see pictures for other options
Please leave note in notes to seller of stamp choice and ink color (up to 2 please)
Thank you for shopping at Pink Lemonade Party Shop!