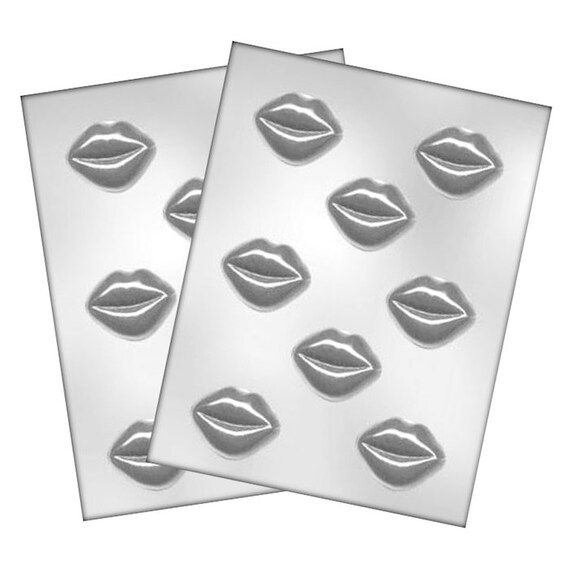 Lips Chocolate Molds - Baking Chocolate Candy Making Craft Party Supplies
By Charmios
Product Info
These chocolate kisses are perfect for a Valentine's Day themed party or to give as a gift. Imagine using multiple colored chocolate to create a box of kisses to send to that special someone. You can also use these along with our chocolate mustache molds to make edible photo booth props for a circus or carnival themed party. Crafters often use these molds to create unique pieces of resin jewelry, such as the lips made of sprinkles attached to a necklace chain found in many shops here on Etsy.
Each mold tray has 8 cavities, measuring 2" x 1-3/8" x 1/2", per mold and makes approx. 22 chocolate pieces per pound of chocolate. FDA approved and should only be used for chocolate molding and NOT FOR HARD CANDY OR OTHER HOT INGREDIENTS. NOT dishwasher safe, WASH BY HAND. These molds are also suitable for soap making, plaster and concrete crafting.
This listing is for ONE (1) 8-Cavity LIPS CHOCOLATE MOLD.
★ ABOUT ★
Based in the NYC/NJ area, Charmios offers a unique craft party experience for any event, which is guaranteed to make a lasting impression with your guests! We'll create a custom craft project that fits within the theme of your event and bring all the materials to your party location. We'll organize it, handle the set-up, craft time and all the clean up so you can relax and enjoy your special day.
Contact Charmios Craft Party for package options, craft projects, and to book your next event! If you are outside the NYC/NJ area, we offer custom do-it-yourself party kits. For direct links to our blog and Facebook page, be sure to visit our about page.