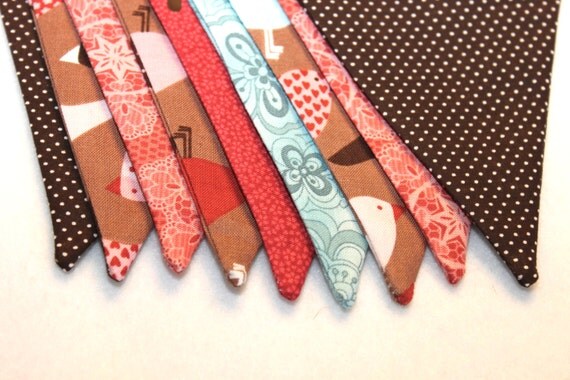 Product Info
SALE: WAS $34, NOW $18; READY TO SHIP
Be Mine bunting is perfect for Valentine's Day, wedding, anniversary, or everyday bedroom decor. Made from trendy, cottage chic colors of chocolate and malt browns, rosy coral, deep rose, and sea glass aqua. Love bird patterned fabric is especially sweet.
Bunting length is approx. 6' with 18" extra trim on either side for hanging purposes. 9 feet in total. This "large" size bunting boasts gorgeous flags 6.5" across at the widest point and 8.5" long!
Flags are created from 2 layers of cotton fabric so they are just as lovely on either side. Dark Brown " Be Mine" lettering is adhered to one side, meaning that you may hang the blank side or side with wording.
Classic, durable, high quality, reusable -- so many reasons to grab up this creation! Easily fold and store to use again and again.
This bunting is made to order. Your bunting will be from the same fabrics, though possibly in a different order.