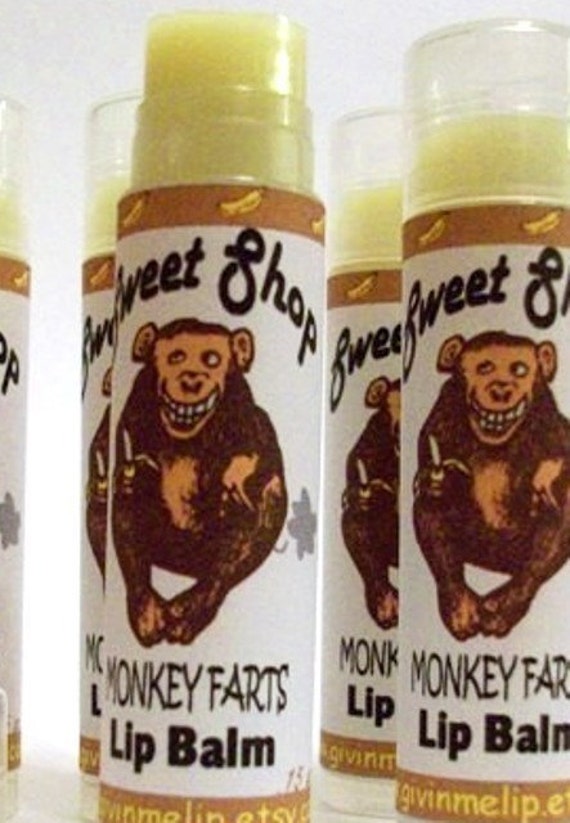 Lip Balm MONKEY FARTS Banana Coconut and Pineapple flavored .15 oz tube
By Howard's Home
Product Info
Lip Balm
Monkey Farts
I KNOW WHAT YOU'RE THINKING,
Why the heck would I want to taste MONKEY FARTS???!!!
Well, although it may sound gross, the flavor of this balm is amazing!
Monkey Farts is a combination of tropical flavors: Banana, coconut and pineapple.
Now do you want to taste MONKEY FARTS?
The boys just love this lip balm; it's not a pretty, pink, girly balm!
See this nice blog about this lip balm here:
http://tryhandmade.com/pucker-up-to-monkey-farts/
Made from scratch, not a premade base!
We are in the process of combining our Etsy stores.
To see Givin' Me Lip Shop history, feedback and other items, please visit:
http://www.givinmelip.etsy.com
"Givin' Me Lip"™ Lip Balms are all Natural and Vegan Friendly.
"Givin' Me Lip"™ Lip Balms are made to order to ensure their freshness.
Our own hand blended ingredients give you a smooth, creamy, non waxy, non greasy flavor full lip balm with just a touch of sweetness.
* This lip balm has a slight color tint naturally occurring from the essential oils and flavor oils. The color will not show on your lips.
*****Our lip balms DO NOT CONTAIN MICA!!!
Mica is made from pulverized (crushed) rock which tends to have sharp microscopic edges causing micro-tears when buffed onto the skin. Therefore making your lips even more chapped and damaged!
You will get one lip balm with this purchase. Your lip balm comes in a .15 oz. tube with perforated shrink seal for your protection.
*Labels are not water proof. To protect the label, please only remove the shrink seal from the top of the cap by running your fingernail around the perforation.
♥ See all of our "Givin' Me Lip"™ Lip Balms
Lip Balm