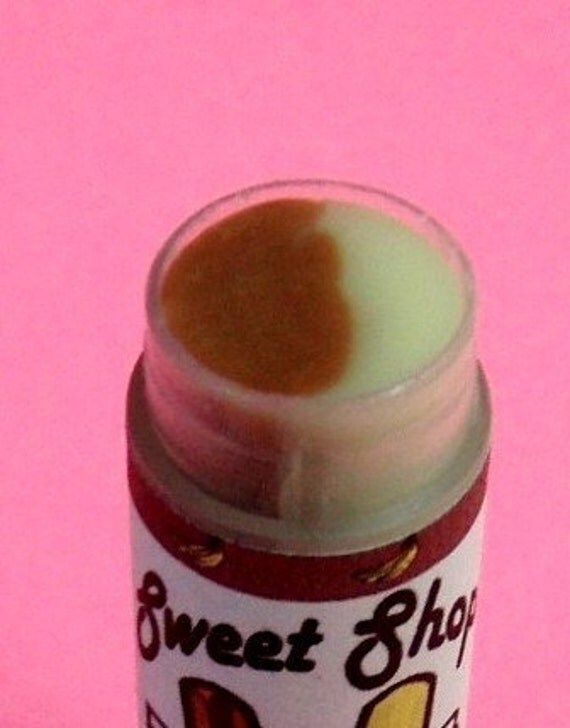 Lip Balm - SWIRLED Fudge and Banana Flavored Lip Balm - Vegan
By Howard's Home
Product Info
SWIRLED LIP BALM
* We have developed a new twist on the same old boring lip balm nation! A swirl of two flavors that when smoothed over your lips combine to give you a stimulating experience!
A treat for your lips and your eyes!
¨¨¨¨°º©©º°¨¨¨¨¨¨°º©©º°¨¨¨¨¨¨°º©©º°¨¨¨¨¨°º©©º°¨¨¨¨¨¨¨°º©©º°¨¨¨¨¨°º©©º°¨¨¨¨
Ƹ̵̡Ӝ̵̨̄Ʒ Flavor: "FUDGE & BANANA POPSICLE SWIRL"
Enjoy this all time favorite summer treat. Fudgesicle swirled with creamy Bananasicle, hard to resist!
"Givin' Me Lip"™ Lip Balms by Howard's Home™ are all Natural and Vegan Friendly.
"Givin' Me Lip"™ Lip Balms by Howard's Home™ are made to order to ensure their freshness.
Our own hand blended ingredients give you a smooth, creamy, non waxy, non greasy flavor full lip balm with just a touch of sweetness.
* This lip balm has a slight color tint naturally occurring from the essential oils and flavor oils. The color should not show on your lips.
*****Our lip balms DO NOT CONTAIN MICA!!!
Mica is made from pulverized (crushed) rock which tends to have sharp microscopic edges causing micro-tears when buffed onto the skin. Therefore making your lips even more chapped and damaged!
You will get one lip balm with this purchase. Your lip balm comes in a .15 oz. tube with perforated shrink seal for your protection.
*Labels are not water proof. To protect the label, please only remove the shrink seal from the top of the cap by running your fingernail around the perforation.
♥ See all of our "Givin' Me Lip"™ Lip Balms
Please note that our lip balms can melt during the shipping process, especially if delivered to high temperature areas. We are not responsible for this and we count on you to use your good judgment when ordering.
*PLEASE READ OUR SHOP POLICIES FOR COMPLETE DETAILS ON SHIPPING AND PURCHASING. IF THIS IS A GIFT ORDER, PLEASE ONLY PLACE THE GIFT ADDRESS IN THE NOTE TO SELLER. Please observe that non-compliance of shop policies will result in appropriate feedback according to each individual circumstance.
Thanks for looking ...
Shipping to the USA only!
No returns, replacements, or refunds.
NO WHOLESALE!!!