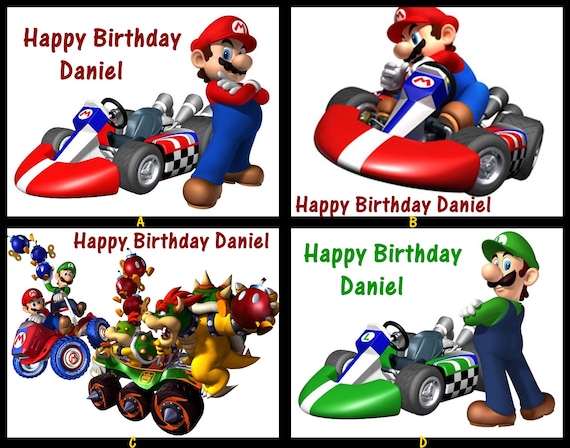 Product Info
(1) Mario Kart Cake Topper
Are you looking for a cool personalized bakery style cake without having to shell out all that cash. Well, look no further, buy a personalized edible cake topper with your favorite characters. The images are printed on frosting sheets with edible ink. Both of which are FDA approved and kosher.
The toppers can be placed on quarter sheet cakes (topper 8.5" x 11") or centered on half sheet cakes. The edible paper will be absorbed into the frosting leaving a beautiful image.
*Plan ahead, the sheets have a shelf life of 12 months in an airtight closed zip bag at room temperature.
Shipping:
Orders are shipped within 1 business day.
U.S. Items ship through USPS first class mail. Average delivery is between 3-5 business days.
International orders ship through USPS first class mail international. Average delivery is between 8-12 business days.
Delays may occur due to Customs.
Personalization and choosing topper:
Impress your guests by having your cake topper personalized. If you need your item personalized email me immediately after paying with what you would like it to say or include personalization when paying. Since I do ship out within 1 business day If I don't receive a message about personalization I will assume that no personalization is wanted and the topper will be sent out with a generic "Happy Birthday." Personalization can be done in English or Spanish. Choosing your topper is easy, just let me know which topper you would like by choosing the letter under the topper desired. Ex. if I were to choose the 2rd topper I would put topper B.

All toppers come with instructions.
Payment:
Payment is required immediately.
Thank you for looking!!
*******Copyright info*******
The pictures used in my auctions are found in Google. They are just examples of how I can personalize items for customers.You are paying for my graphic talent, materials and the time it takes to create these personalized images for you. The characters or personalities utilized in my designs ARE NOT being sold. They are free and are only being used to personalize your party item. I DO NOT claim ownership of the licensed characters. They are the sole ownership of their respective copyright holders. These images are permitted for one time personal use, such as on birthday invitations or cake toppers, according to the sale doctrine. They CANNOT be resold for any reason. I do not own any copyrights. Customers pay for materials and for my services. I do not charge for any images.