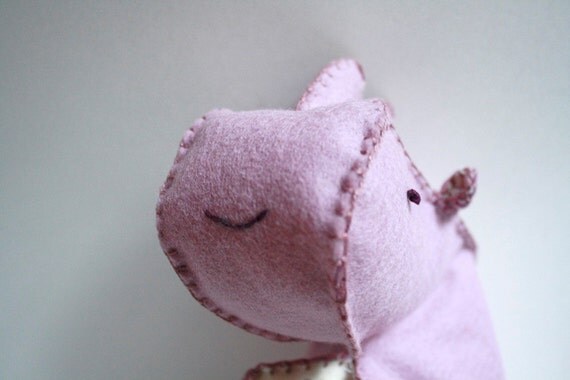 Product Info
Meet Lula A Handcrafted Wool Felt Rhino
Lula is a very talented rhino. She can sing her ABC's forwards and backwards to the tune of "Mary Had a Little Lamb." That's something that takes great skill. When she's not training her voice, you'll find her in a cool mud puddle twittling her toes.
Lula measures approximately 8.5" inches long, 4.25" inches tall by 3.25" inches wide. I made her completely by hand using a 100% lilac wool felt and matching purl cotton embroidery thread. Her belly is made with a beautiful floral Japanese printed fabric with a medley of tiny little lilac flowers. A machine stitched safety bag of rice sits inside her belly to give her weight, and 100% organic cotton fibers are what make her lovable and huggable.
Lula makes a great first gift for baby. She is the perfect addition to a child's room, adding a soft touch to the delicate feel of a nursery.
Yes, Lula has friends: http://www.etsy.com/listing/66937722/meet-riley-a-hand-crafted-wool-felt
Note: Because Lula has a small bag of rice in her center, please supervise children while at play. She is made with the highest safety precautions, and although the rice bag is securely stitched closed, this toy may not be suitable for children ages 3 years and under.