product info: ...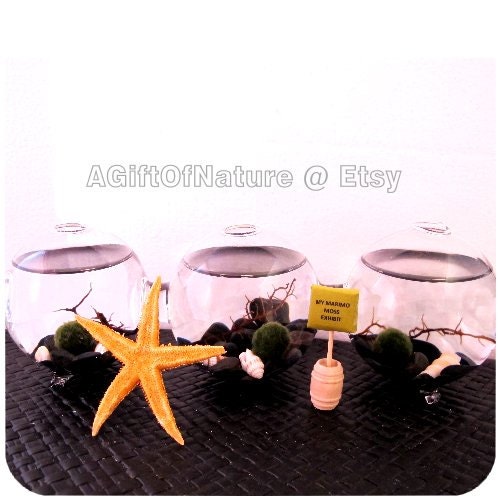 39.00 USD
This is a special set created to resemble a miniature exhibit. This DIY kit features a tabletop triple aquarium terrarium with a Baby Marimo Moss Ball for each globe. With sea coral and seashells for accent along a bed of small river pebbles. Comes with a handmade sign post and a large starfish to complete your display! Let us know if you'd like to customize the sign post (ie. Lisa's Marimo Exhibit") .This is a very adorable DIY kit, easy and fun to assemble.
Baby Marimo Moss Ball comes from a long line of ancestors dwelling in colonies within Lake Akan in Hokkaido, Japan. Wonderfully soft and beautifully green and velvety to the touch. It is believed that Marimo will bring good luck, love and happiness! It is also said that taking good care of Marimo will make one's wishes comes true. Japanese have Marimo in their homes and offices as pets. Now, you can have your very own Marimo too. It is very rewarding to be able to see a happy Marimo pearl underwater! They just love to play. Tilt the aquarium ever so slightly and maybe you'll see them jump right through the tunnel.
MATERIALS: (1) Tabletop Triple Aquarium, (3) Baby Marimo Moss Balls, (3) Miniature Sea Coral, (1) handmade miniature sign post, (1) large starfish, small river pebbles, and lots of seashells for decor!
DIMENSIONS: Tabletop 3-Globe Attached/Triple Aquarium measures ~ 3.5" x 11" wide. Baby Marimo Moss Balls measure ~1/2". All natural items will vary slightly in size and/or color making each one unique.
SHIPPING: Fast shipping and FREE Tracking where available. Shipping to the continental USA only.
PAYMENT OPTIONS: We accept all major credit cards, Paypal, Etsy Checkout and Google Wallet. If remitting payment via Google Wallet, simply let us know when you are ready with your order!
GIFT OPTIONS: Available soon.
Please don't hesitate to contact us with any questions you may have prior to your purchase. We're happy to help if we can! Enjoy.
© 2013 A Gift Of Nature @ Etsy.com All Rights Reserved.
The term 'Etsy' is a trademark of Etsy, Inc. This application uses the Etsy API but is not endorsed or certified by Etsy, Inc.