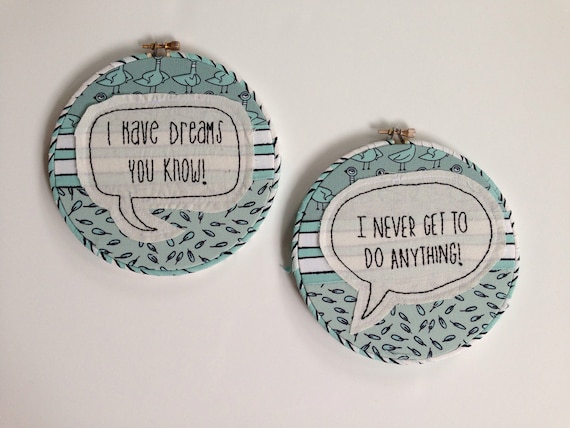 CLEARANCE - mo willems pigeon embroidered hoop art // cloud 9 pigeon fabric // 5 inch embroidery hoop wall art
By daisyeyes handmade
Product Info
FREE SHIPPING ON "I NEVER GET TO DO ANYTHING HOOP"
If you have children, then chances are you have been introduced to the Pigeon (if you haven't run to the library now and get one of these books). What excitement hit the air when Cloud 9 announced they would be doing a line of pigeon themed fabric! I got my hands on a few fat quarters and these hoops are the first of a host of ideas to come.
Using this awesome fabric, I designed these limited edition hoops (basically limited until my small stash is sadly gone) and after stitching a few pieces together, I added a speech bubble with a few of the Pigeon's famous lines.
These would make a perfect gift for a teacher, librarian or book loving friend...not to mention being perfect additions to a play room or child's room.
Each hoop measures 6 inches and is finished on the back complete with a daisyeyes handmade tag.
***
please note: "I never get to do anything" is the only one available at this time
***