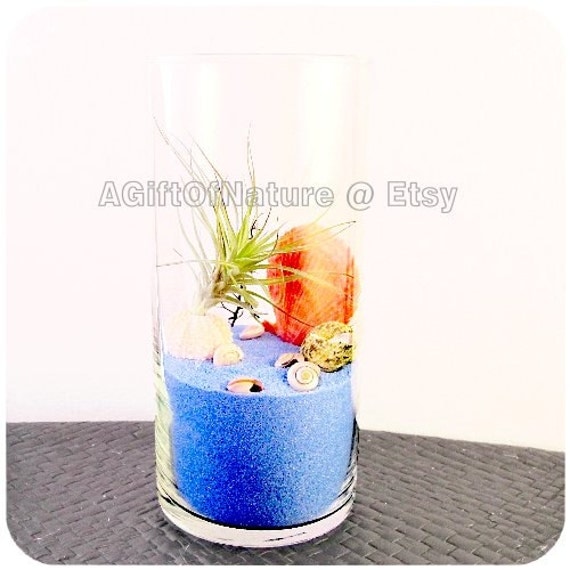 Urban Living Modern Tillandsia Terrarium Kit, AIR PLANT HOLDER, Soft Blue Sea, Glass Vase Home Decor Housewarming Gift Birthday Gift Hostess
By A Gift Of Nature
Product Info
Modern terrariums for urban living! This simple theme was created for those small corner spaces we're always wondering what to decorate with. What makes this set extra special is that it's shape allows for multiples to be placed together for a riveting display. Place a set of 3 or 4 different themes near a windowsill during the cooler months for a welcoming display of nature. (See last photo for sample display.) Experience the beauty of nature at your fingertips!
An easy and fun to assemble terrarium kit. A great way to accent your home or office without the need of a green thumb! These beautiful glass terrariums can be hung up or displayed on the table.
MATERIALS: (1) Glass Container Vase, (1) Air Plant (Similiar to photo based on availability), (1) pink sea urchin (as these are natural, colors will vary from white to light pink or white with green stripes), (1) colorful scallop seashell, (1) medium seashell, (5) tiny seashells for decor, (1) miniature sea coral, and sand in blue!
DIMENSIONS: Miniature Glass Container measures ~ 3 1/4" wide x 7 1/4" high . All natural items will vary slightly in size and/or color making each one unique.
SHIPPING: Fast shipping and FREE Tracking where available. Shipping to the continental USA only.
GIFT OPTIONS: Available soon.
Please don't hesitate to contact us with any questions you may have prior to your purchase. We're happy to help if we can! Enjoy.