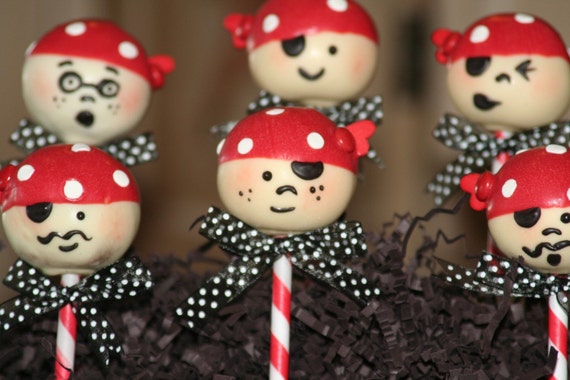 Product Info
~~Warm Weather Shipping~~ April through September
**Please, please convo us prior to ordering if you would like your order ice-packed-
We highly recommend ice-packing in areas where temperatures are 70 degrees and above.
Ice-packing is at an additional cost over the cost of the pops and our standard shipping and is based upon number of pops ordered/box size.
Ice-packing is a customer option, but we do strongly advise in warmer temps and climates as indicated.
Thanks so much~
We are so happy to have had our pirate pops featured by Gwynn Wasson on her FABULOUS website!! Please visit her blog @ www.gwynnwassondesigns.com! Gwynn also has an Etsy shop where she offers the most adorable printables around!! Truly the icing on the cake!! :)
Please think of Gywnn when planning your child's next party or event!!!
We have updated the old design to offer these newly designed Pirate cake pops. Complete with rosey cheeks, mustaches and five o'clock shadows. Remember, you saw them here first. :D Facial features are painted in milk & white chocolate. And we absolutely customize ethnicities, freckles, glasses, whatever you would like~
Ahoy Mateys!! These adorable pirate cake pops are so dEe-LiCiOuS they will make you want to walk the plank to take a bite!!
How precious will these be for your little sailor on his pirate themed, or even Peter Pan themed birthday, especially when combined with Mom's personally designed skull & crossbone cake pops!! (See other listing, please)
Mom's Killer Cake Pops never uses the F- word! F-O-N-D-A-N-T. Yuck! Kids both little and big hate fondant- that's the word we get over and over again. We believe cake pops should not only look adorable but they should taste AMAZING!! The combination of candies and goodies we use, make for one incredible taste experience!
If you want cake wrapped in a stick of gum, you'll have to look elsewhere~
Personality and dee-licious, dee-lectable goodness is packed into every precious pop.
Our cake pops are perfect for birthday parties, weddings, anniversaries, baby showers, holidays, special days, and for no special reason at all. Just a happy pick-me-up!
This listing is for (1) dozen, but we can make as many as you need!
Add-Ons:
1) ~*~*If you would like your pops to come with candy-striped sticks, please add $2.50 to your cake pop total. Convo us and we will set up your custom listing. If candy striped sticks are not selected, we will send yours with our standard white. :) If we are out of stock, we will let you know asap.
2) Our pops can be tied with ribbon for 8.95 per dozen. Twist-tied pops are standard and included in the price shown,
3) For an adorable display pail or tub like the retro lolli-dot design shown here, please visit our sweet friend Emily at Brodders Tubs!! WE LOVE EMILY!! She is the absolute greatest! She offers a wide array of fabrics and even offers personalization!!
Here is the link to her shop: http://www.etsy.com/shop/BroddersTubs
Cake flavors include:
~Mom's Own~
Not So Plain Jane Chocolate
Not So Plain Jane White
Not So Plain Jane Yellow
Ruby's Red Velvet
Aunt Alcy & Uncle Avery Caramel Apple
Shirley Ann's Strawberry
Carlene's Carrot
Christopher! Jonathan! Jam
Jonnie Bell's Banana Bonanza
~*~*~Now Offering~*~*~
A'int Lucille's Lemon
Charles's Chocolate Chipper Cookie
Russell Rainey's Best Brownies
Opal's Creamy Caramel
Sadie's Sassy Spice
Mom Loves Starbuck's!! Mocha Frappuccino Frenzy
Aunt Maple's Marble
If you would like a flavor not listed, just ask!
~*~*~*Please respect my talent as a fellow creative cake pop artist and do not copy my designs*~*~*
If you would like a flavor not listed, just ask!
~~~~~~~~~~~~~~~~~~~~~~~~~~~~~~~~~~~~~~~~~~~~~~~~~~~~~~~~~~~~
Policies:
Please convo us prior to ordering for orders needed within a 1-2 week time frame. We will try our best to accommodate those orders, but sometimes a rush fee and expedited shipping service may apply. We love to help with rush orders, just let us know first, so we can make a spot especially for you and your needs! :)
Please remember, we are here for the sole purpose of serving you and creating a happy, repeat customer base! We'll do what it takes!
~Please see our store policies for additional information~
ALL SALES ARE FINAL~ NO REFUNDS GIVEN~
DAMAGE CLAIMS MUST BE FILED WITH CARRIERS IF INSURANCE HAS BEEN PURCHASED.
WE ADVISE INSURANCE, IF YOU HAVE CONCERNS~
If insurance is desired, simply convo us for your custom listing. :)
Your order will be shipped via USPS Priority Mail or Fed-Ex Ground, and while we do everything we can to make sure your order arrives intact and by the date needed, once your package leaves our hands, we cannot control the package carriers, whether by transit delays or damage incurred by careless handling. We have shipped literally tens of thousands of pops and have streamlined our shipping over the years for the safest arrival possible of a perfect pop! :)
We strongly encourage insurance for our customers who purchase goodies from us totaling $50. or more.
We want everybody to be happy & protected!
And since we want you to receive the freshest product available... We ship cake pops ALL WEEK LONG!! Overnight shipping is available for the additional cost.
~Please note those with allergies, we bake with nuts, milk, chocolate, and eggs~
Thanks for stopping by our shop!
~Mom & Staff