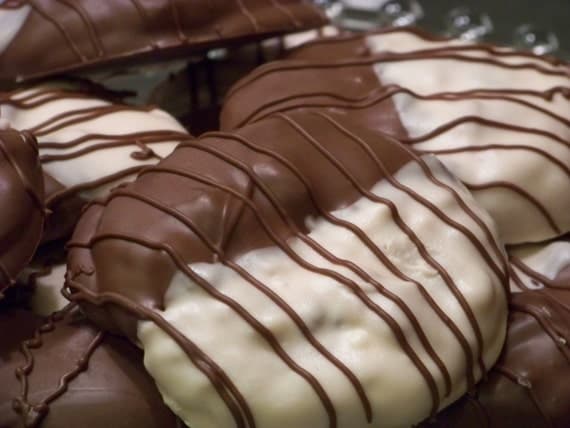 Product Info
Amazing cookies are yours for the takin' and ours for the bakin'!
Here we offer the milk & white chocolate dipped version of our own Charles's Chocolate Chippers!
These cookies literally fly off the shelves. Literally. Yes. FLY.
And with the cookie on the inside, C.C.C. is where it all started... Mom's sons would carry these cookies to school everyday, and were able to stave off the class bullies who preferred these cookies over lunch money 10 to 1. :)
Mom has been baking these bad boys since she herself was a tyke. And has perfected her top secret recipe!
What we can say about this cookie is...
Butter meets brown sugar & vanilla, marries chocolate & oatmeal and they live happily ever after in delectable bliss.
These are Mom's MOST REQUESTED cookie ever.
And NOW, these cookies, seeing pools of white and milk chocolate decided to take a dip, and voila!!
This listing is for 1 dozen generously sized cookies.
If you need more, let us know. We can accommodate any size order.
Your order will come adorably packaged ready to give as a happy, or to tear into and devourrrrr.
At Mom's, we use only the freshest ingredients available.
Mom is meticulous, so what you will receive is the finest baked goods available.
Your order will be shipped via USPS Priority Mail, and while we do everything we can to make sure your order arrives intact, once your package leaves our hands, we cannot control the post office, unfortunately.
We strongly encourage insurance for our customers who purchase goodies from us totaling $50. or more.
We want everybody to be happy & protected!
And since we want you to receive the freshest product available... Cookies ship Mondays through Wednesdays only, so please bear in mind when ordering. Overnight shipping is available for the additional cost.
~Please note those with allergies, we bake with nuts, milk, chocolate, and eggs~
Thanks for stopping by our shop!
~Mom & Staff