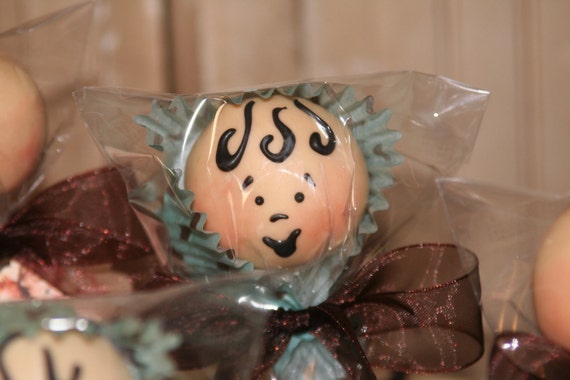 Product Info
~Please read our policies PRIOR to ordering.~
~Mom's Killer Cake Pops is a city and health department inspected and approved walk-in bakery. We are located in Southaven, Mississippi, just minutes outside of Memphis. When in town, come by and see us!!~
Rest assured your adorable pops are coming from a safe and clean working environment!
At Mom's, we know you want the very best for your family and loved ones~
We NEVER use stencils on any of our pops, nor hard candies nor the "F" word ever.... FONDANT.
We are just as happy as can be to offer these adorable baby pops. Perfect for baby showers, new baby gifts, christenings, pregnancy announcements, and more!! Little girls & boys available, and other ethnicities as well!! Baby "bonnets" vary and will be gender appropriate, unless no bonnet is requested.
This listing is for (1) dozen sweet baby cake pops!! If more are needed, just let me know.
I can accommodate orders of all sizes.
~Tags shown are not sold with this listing, but are available for purchase at our friend, Jeyn's shop!!
Shop her adorable website @ https://www.etsy.com/shop/Joosycardco
Her Etsy shop is full of the most adorable adorable-ness that you can imagine!
~*~*Special Add-ons:
If you would like your pops to come with candy-striped sticks, please add $5.95 per dozen/$3.50 per half dozen. Convo us and we will set up your custom listing. If candy striped sticks are not selected, we will send yours with our standard white. :) If we are out of stock, we will let you know asap.
If you would like ribbon added, please add 9.95 per dozen/6.00 per half dozen.
For an adorable display pail or tub like the lolli dot design shown here, please visit our sweet friend Emily at brodyandma!! WE LOVE EMILY!! She is the absolute greatest! She offers a wide array of fabrics and even offers personalization!!
Here is the link to her shop: http://www.etsy.com/shop/BroddersTubs
Cake flavors include:
~Mom's Own~
Not So Plain Jane Chocolate
Not So Plain Jane White
Not So Plain Jane Yellow
Ruby's Red Velvet
Aunt Alcy & Uncle Avery Caramel Apple
Shirley Ann's Strawberry
Carlene's Carrot
Jonnie Bell's Banana Bonanza
~*~*~Now Offering~*~*~
A'int Lucille's Lemon
Charles's Chocolate Chipper Cookie
Russell Rainey's Best Brownies
Mom Loves Starbuck's!! Mocha Frappuccino Frenzy
Aunt Maple's Marble
Fay's "Parlay Vu Fran Say" French Vanilla
Uncle Carl is coco-NUTS! Coconut
If you would like a flavor not listed, just ask!
~~~~~~~~~~~~~~~~~~~~~~~~~~~~~~~~~~~~~~~~~~~~~~~~~~~~~~~~~~~~
POLICIES: (PLEASE READ)
Orders needed for a specific date should be ordered 2 to 3 weeks in advance, as we stay booked.
Purchases made outright are subject to a 2 to 3 week lead time, unless prior arrangements have been made via convo.
P.S. At Mom's we never use any candy harder than a sprinkle on our pops! We know little kiddos eat our pops, and want our pops to be safe for kids of ALL ages!!
Please remember, we are here for the sole purpose of serving you and creating a happy, repeat customer base! We'll do what it takes!
~~Warm Weather Shipping Policies~~ Apply April through September~~
**Please, please convo us prior to ordering if you would like your order ice-packed-
We highly recommend ice-packing in areas where temperatures are 70 degrees and above.
Ice-packing is at an additional cost over the cost of the pops and our standard shipping and is based upon number of pops ordered/box size.
Ice-packing is a customer option, but we do strongly advise in warmer temps and climates as indicated.
Ice-packing will not automatically be added, regardless of where item is being shipped, unless requested and purchased prior to ordering/shipping.
Thanks so much~~~
~Please see our shop policies for additional information~
Your order will be shipped via USPS Priority Mail or FedEx, and while we do everything we can to make sure your order arrives intact, once your package leaves our hands, we cannot control the package handlers OR the weather~
*****Claims for damaged goods must be filed with the carrier.
We strongly encourage insurance for our customers who purchase goodies from us totaling $50. or more.******
We want everybody to be happy & protected!
And since we want you to receive the freshest product available... We ship cake pops ALL WEEK LONG, but cookies ship Mondays through Wednesdays only, so please bear in mind when ordering. Overnight shipping is available for the additional cost.
***Please note: ALL SALES ARE FINAL. NO REFUNDS WILL BE GIVEN***
~Additional note to those with allergies, we bake with nuts, milk, chocolate, and eggs~
Thanks for stopping by our shop!
~Mom & Staff