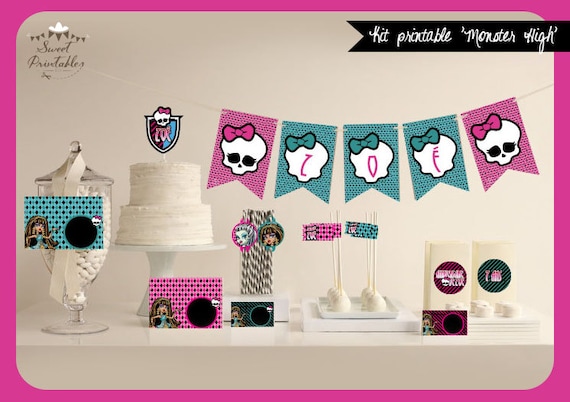 Product Info
This Monster High kit is to customize and print oneself. It can be used for a birthday party, a party on this topic or any other events!
Celebrate and Celebrate at home.
Our digital printable files are delivered in high resolution PDF format.
Unlimited printing, print the number of items you want!
CAUTION: You can not customize the personal name and age of the child.
Thank you for giving me the name and age for personalization.
You can also choose the model of the 21 models available, thank you to specify in the form.
_____________________________________
WHAT YOU GET:
- Instructions
- Decorations planting (2 styles, 6 colors)
- Decorations straws (models 1, 7 characters)
- Packaging for cupcakes (3 models)
- Labels for bottles (2 models and 2 sizes)
- Table Confetti (12 models, 2 sizes)
- Centerpiece (1modèle)
- Banner (one letter / number per A4 sheet - Self-Customizable)
- Labels flavor, branded site (4 models, one size 5cm x10cm - Self-Customizable)
To customize the text, it is very simple, the document is editable by you in the PDF provided.
You need something you do not see? Contact me!