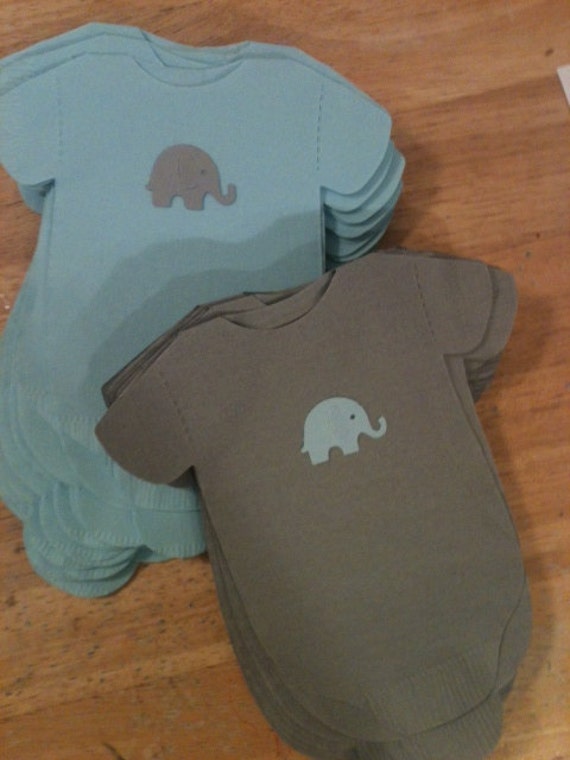 Pack of 30 Gray and Blue (or any color) Baby shower "clothing" napkins or banner decoration. Each with adorable baby elephant.
By wrapsidazy
Product Info
These baby onesie napkins are absolutely adorable and sure to be a hit at your baby shower! Each napkin is cut in the shape of a baby one-piece shirt and adorned with a little elephant. You get 15 gray napkins with a blue elephant and 15 blue ones with a gray elephant. Use as napkins, of course, and hang a few over a ribbon for an instant banner, as you can see in the last picture. =)
Please order in packs of 30; order a quantity of 1 for 30 napkins, a quantity of 2 for 60 napkins, etc.
Each napkin is 6" long and 5" across, is triple ply and opens up to twice this size. If you have another preference as far as adornment, just convo me - I will do my best to accomodate your theme!
Actual emails from satisfied customers:
"The napkins couldn't have been more precious! I hung [some] along the edge of the table over ribbon and I it was the mom-to-be's favorite thing!"
"I couldn't even try to describe how cute these are,,, soooo pleased. Tk u:) "
"Too stinkin' cute!"
Non-smoker in a non-smoking home.