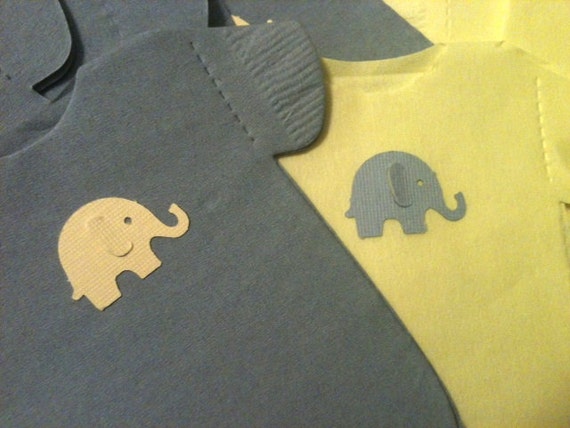 Pack of 30 Gray and Yellow Baby shower "clothing" napkins or banner decoration. Each with heart or owl or elephant.
By wrapsidazy
Product Info
Let me help you add that finishing touch to your baby shower table in a unique way. These baby shower napkins are handmade by me one by one. They are absolutely adorable and sure to be a hit at your baby shower! Each napkin is cut in the shape of a baby shirt and adorned with a little funky heart, or owl, or elephant. You get 15 gray napkins with a yellow heart / owl / elephant and 15 yellow ones with a gray heart / owl / elephant. Use as napkins, of course, and hang a few over a ribbon for an instant banner, as you can see in one of the pictures!
Just send me a message if you'd like these in colors other than grey and yellow. :)
Please order in packs of 30; order a quantity of 1 for 30 napkins, a quantity of 2 for 60 napkins, etc.
**When you check out, please let me know if you'd prefer hearts, owls, or elephants. You can see pics of my owls and elephants and hearts in some of my other listings. =)
Not a fan of grays and yellows? Not a problem - order any colors!!
Each napkin is 6" long and 5" across, most of my colors are TRIPLE ply and each one opens up to twice this size. If you have another preference as far as adornment, just convo me - I will do my best to accomodate your theme!
Thank you card in last pic is available from Pink Champagne Paper Co on Etsy.
Quotes from customers:
Oh my oh my...these were so beautiful! I can honestly say that Jacqueline REALLY paid attention to detail because the cut on these are amazing!!!!!! I am VERY happy I came across her store!!! I would recommend Jacqueline to anyone! Thanks again Jacqueline...you rock!!!!
"My mother and I loved your napkins!! OMG they are the cutest item to dress up a baby shower."
"The napkins couldn't have been more precious! I hung [some] along the edge of the table over ribbon and I it was the mom-to-be's favorite thing!"
"I couldn't even try to describe how cute these are,,, soooo pleased. Tk u:) "
"Too stinkin' cute!"
Non-smoker in a non-smoking home. Priority Mail.