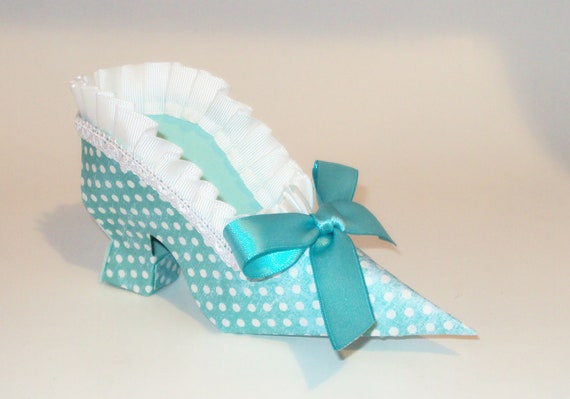 Product Info
This miniature shoe is made from high quality papers. It has a turquoise bow at the toe and white pleated trim around the top of the shoe as embellishments. It measures approx 2 x 5.75 inches and is perfect as a keepsake, decoration, gift box, party favor, place card holder, business card holder, etc. It is great for any occasion, such as weddings, birthdays, anniversaries, teas, proms, sweet 16's , etc. It is also the perfect gift for any shoe lover and a special treat for yourself!!
You can also purchase a shoe box from my gift wrap section to make your shoe a complete gift. There is plenty of room in the shoe box to add a small gift or just use your special mini shoe as a gift itself!!
My shoes are created by many different types of paper and at times other items are used too! They are very sturdy. Much more so than a sheet of paper. Each shoe is created by me and many are one of a kind.