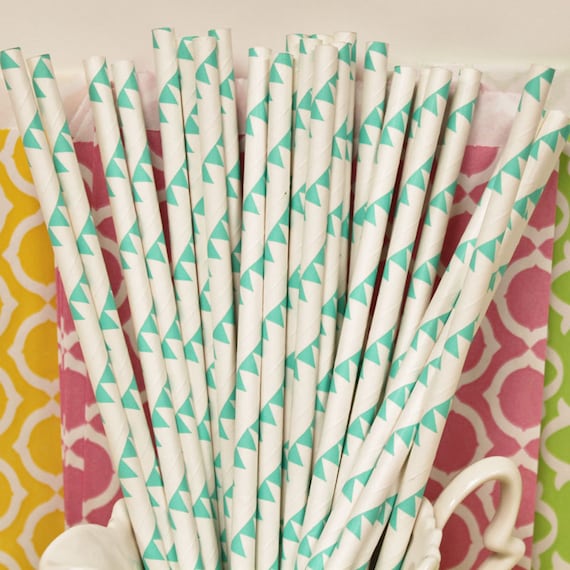 Paper Straw SALE, 50 Aqua Party Bunting Paper Straw, Sale, Discount Paper Straw, Aqua Paper Straws, Party Supply, Birthday, Wedding Straws
By The Party Fairy
Product Info
Aqua Party Bunting Paper Straws Paper Drinking Straws, Discount Bulk Price for Party Event Planners, Weddings, Catering, Bakery, Cafe's, Coffee Shops, Business Meetings or to sell in your store or online shop. We've made is easy for you to select the amount you need.
* Set of 50 Paper Straws
* 7 3/4" long
* MADE In USA
* The Sugar Diva Brand paper straws
* Your "Original" trusted brand of paper drinking straws
* We made paper straws FAMOUS worldwide
* PLEASE READ "OUR STORY" and learn more about us *****
We are in the business for SELLING PAPER STRAWS.
******* YOUR ORIGINAL HOME of WHOLESALE PAPER STRAWS *******
Yes, It all stared right here with us….OUR IDEA…Our hard design work and determination to put as many "Colored" Paper Straws possible back on the planet. And we did just that.
We are the "ORIGINAL" CREATOR, DESIGNER & MANUFACTURER of these pretty Paper Drinking Straws and supply stores and shops worldwide. YES…It was ME…who created all these pretty colored paper straws designs 4 years ago. And what an exciting time it was. We are responsible for making Paper Straws Famous worldwide. You can find our products in retail stores nationwide.
Don't let the "Copy Cats" fool you and there are many of them out there. Geez, they even steal my pictures to use on their web sites.!!! BUY SAFE and with confidence when you purchase from The Sugar Diva. We promise you the best quality possible with every product we sell. And THAT is what makes us stand alone.
THANK YOU for supporting The Sugar Diva Brand Products.
Our mission is to continue to bring you the best in Party & Packaging Supplies and continue designing "Fresh New" Products that you all be proud to use or sell.
Cheers,
Dianne,
Owner and your "ORIGINAL" Creator of Paper Drinking Straws