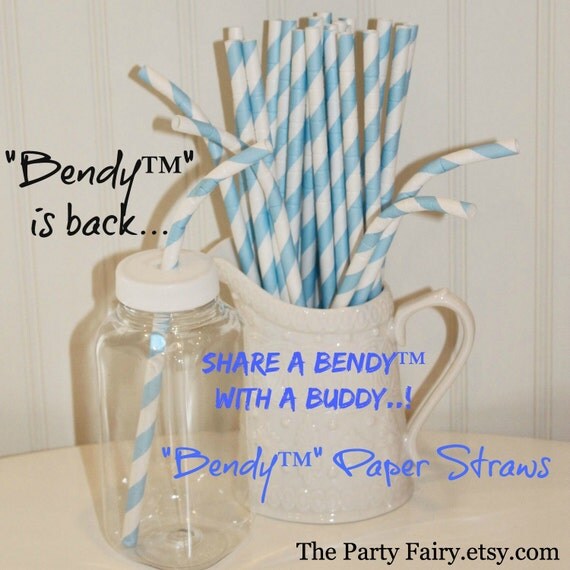 Paper Straws, 20 BENDY™ Paper Straws, Pastel Blue Striped Bendable Paper Straw, Birthday Party, Baby Shower, Wedding, Mason Jar Straw
By The Party Fairy
Product Info
Get the party started with our BENDY™ Paper Straws.
Pastel Powder Blue Striped BENDY™ Paper Drinking Straws for Baby Showers, Boy, Weddings, Birthdays, Summer, Pool parties, Baby Gender Reveal, Bridal Showers and other special gatherings. Perfect for lemonade, sweet tea, party punch,ice cold milk or your favorite party beverage.
And the "kids" will LOVE these new bendable paper straws.
Our new Bendy™ Paper Straws are oh so fun and will be a hit at your next party or event.
YES…BENDY™ is back, not since the early 1960's when they faded out of site and were taken over by plastic….WE bought you the first "ORIGINAL" colored Paper Straws…and now…WE have brought back Bendy™
BENDY™ is back on the planet and here to stay.
And only here at The Party Fairy
Share a Bendy™ with a Buddy
*20 Pastel Powder Blue Striped Bendy™ Paper Straws
*7 3/4" Long
*Proudly made in USA
*No China made straws here
*The Sugar Diva Brand
*BUY SAFE….BUY USA
*Bendy™ is registered trademark
of Aardvark Paper Straws Made in USA, patent pending.
Cheers,
The Party Fairy
Watch for MY STORY in ….MARLO THOMAS…NEW BOOK…just released and in book stores nation wide. We are honored to have Marlo tell our story.