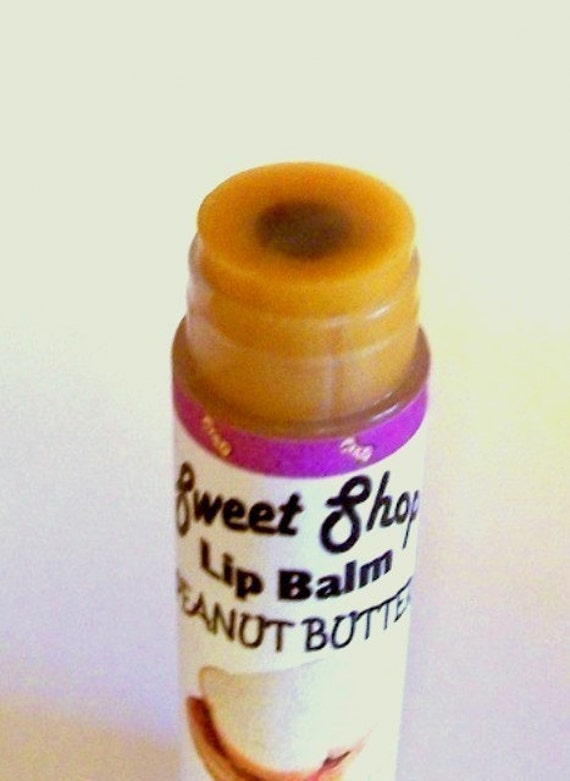 Peanut Butter and Jelly Lip Balm - PB&J Two layer unique lip balm
By Howard's Home
Product Info
Lip Balm
* We have developed a new twist on the same old boring lip balm nation! A layer of two flavors that when smoothed over your lips combine to give you a stimulating experience!
A treat for your lips and your eyes!
Flavor: "PEANUT BUTTER AND GRAPE JELLY"
The smell and taste of this lip balm is amazing. Smells and just like a real PB&J.
You can even customize your balm by choosing
Grape Jelly Flavored Center,
Strawberry Jelly Flavored Center,
Peach Jelly Flavored Center,
Orange Marmalade Jelly Flavored center,
or go ELVIS on us and choose a Banana Flavored Center...
**Please note your choice in the "note to seller" at the check out :-)
If you do not choose a jelly flavor, we will make yours with Grape Jelly flavor.
*****WARNING: FOOD ALLERGY ALERT / CONTAINS REAL PEANUT BUTTER!*****
The outer ring is Peanut Butter flavored
and in the center is Grape Jelly flavored (or your choice).
¨¨¨¨°º©©º°¨¨¨¨¨¨°º©©º°¨¨¨¨¨¨°º©©º°¨¨¨¨¨°º©©º°¨¨¨¨¨¨¨°º©©º°¨¨¨¨¨°º©©º°¨¨¨¨
Made from scratch, not a premade base!
We are in the process of combining our Etsy stores.
To see Givin' Me Lip Shop history, feedback and other items, please visit:
http://www.givinmelip.etsy.com
"Givin' Me Lip"™ Lip Balms are all Natural and Vegan Friendly.
"Givin' Me Lip"™ Lip Balms are made to order to ensure their freshness.
Our own hand blended ingredients give you a smooth, creamy, non waxy, non greasy flavor full lip balm with just a touch of sweetness.
* This lip balm has a slight color tint naturally occurring from the essential oils and flavor oils. The color will not show on your lips.
*****Our lip balms DO NOT CONTAIN MICA!!!
Mica is made from pulverized (crushed) rock which tends to have sharp microscopic edges causing micro-tears when buffed onto the skin. Therefore making your lips even more chapped and damaged!
You will get one lip balm with this purchase. Your lip balm comes in a .15 oz. tube with perforated shrink seal for your protection.
*Labels are not water proof. To protect the label, please only remove the shrink seal from the top of the cap by running your fingernail around the perforation.
♥ See all of our "Givin' Me Lip"™ Lip Balms
Lip Balm