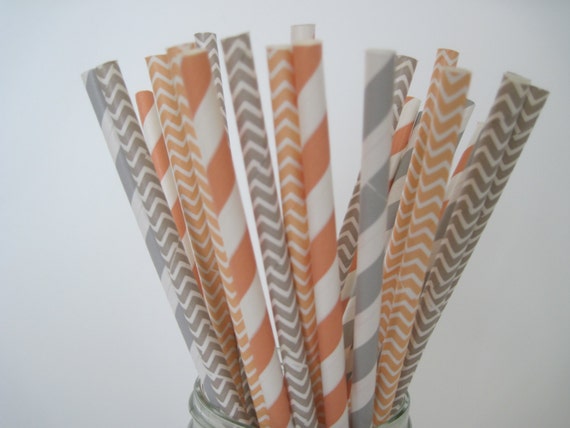 Peach & Grey Paper Straws Mix-Peach Striped Paper Straw-Wedding Paper Straws-Chevron Mason Jar Straw-Grey Zigzag Straws-Birthday Party Straw
By Creative Juice Cafe
Product Info
Peach and Grey straws just say PARTY! The chevron pattern combined striped pattern in grey and peach make these perfect for weddings, birthdays, baby showers or anytime you need to add some style to your party or get together!
This mix consists of peach striped, peach chevron, grey striped, and grey chevron paper straws.
7 3/4" long Food safe & FDA Approved
Earth Friendly & Bio-degradable
Thickest
Strongest
Most Durable
** Please note that straw colors can appear slightly different due to various factors: lighting, monitor, manufacturer batch color variation.
Check out over 100 other styles of straws in stripe, dot, heart and chevron patterns.
▼▼▼▼▼▼▼▼▼▼▼▼▼▼▼▼▼▼▼▼▼▼▼▼▼▼▼▼▼▼▼
Want to get the best price possible? Use the following coupon codes-
SAVE10 ---- 10% off a minimum purchase of $10
SAVE15 ---- 15% off a minimum purchase of $25
SAVE20 ---- 20% off a minimum purchase of $60
▲▲▲▲▲▲▲▲▲▲▲▲▲▲▲▲▲▲▲▲▲▲▲▲▲▲▲▲▲▲▲