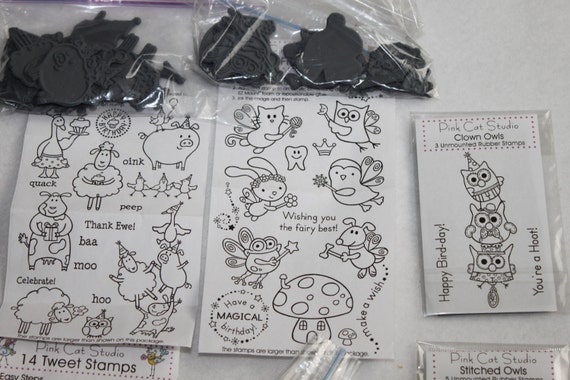 Product Info
I absolutely love Pink Cat Studio stamps!
These 5 sets have never been used before. Most of these are no longer for sale on their website either.
They are unmounted rubber stamps that you cut out (3 of the 5 sets I have already cut out) and use double-sided tape to adhere to an acrylic block. This makes for the crisp images of rubber stamps but with much less storage bulk.
3 large packages are:
Fairy Friends (owl, bunny, frog, dog, penguin, cat each dressed as a fairy)
14 Tweet Stamps (birds sewing, dressed for different seasons)
Party Animals (farm animals with balloons, hats, cupcakes)
(small packages:)
Stitched Owls (Christmas owl and owl on branch)
Clown Owls (3 stacked owls on unicycle)