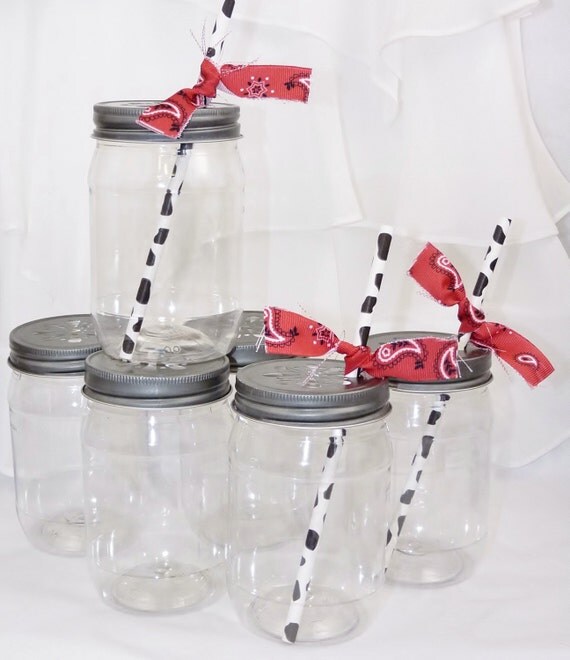 Plastic Mason Jar BPA FREE 8 count , Unbreakable, Trendy, Guest Favorite, Wedding, Outdoor Concert, Birthday, Western, Party Favor, Retro
By Lola's FaNcY Party Shop
Product Info
-You will recieve--
* 8 count -- PLASTIC JARS
* 8 - Pewter Daisy Cut Lids"
* 8 - FREE , Your Choice at time of sale)Vinyl DIY Labels ....
*SEE NOTE BELOW...*
***( PLEASE READ SHIPPING Note at Bottom of Page)***
**..if the color Label is not in stock we will Substitute with Black or White as the Default!*
NOTE*****each lid is Unique and Rustic....they are made to Look Worn, Vintage and will vary slightly*** HAND WASH**
LID size is 2 3/4" diameter
These Fit Regular / Standard Sized Mason Jars***** NOT Wide Mouth Jars****
F.Y.I. on Our Plastic Jars and Bottles....
ALL Plastic Containers at 'Lola's' are Commercial FOOD GRADE ''P.E.T.'' Plastics.
..the Same Suppliers used by Most Universal Name Brand Dairy ,Juice and Food Suppliers in our Local Groceries and Restaurant Chains.....
The Jars and Bottles are 'Unique' and are to be 'HAND-WASHED' , Daisy Lids Rinse and Dry quickly as not to rust,
...Some will show 'little 'bubbles', or look slightly 'rubbed'....They Come to Us this way and are by NO Means a Defect...Just the Character of a Soft Enviromentally Safe Plasic...
You are Receiving The BEST in High Quality SAFE Packaging... Thank you for your understanding of the items material and our policy of no returns .
** P.E.T. Plastic info here...
There has been a lot of confusion about what is in our plastic containers since concerns were raised about the safety of polycarbonate products containing bisphenol-A (BPA). Recent campaigns in Canada, Europe and the United States have also suggested that all single-serve plastic bottles are harmful to the environment. Sometimes it's hard to know if there's any such thing as a good, safe plastic.
Facts on PET is a coordinated effort to provide accurate information on one of the most common types of plastic we encounter on a daily basis, polyethylene terephthalate (PET). PET (also known as PETE) plastic products are designated by the recycling code "1." Most single-serve plastic bottles, including those for water, soft drinks and juices, are made with PET, which does not contain BPA. PET is globally recognized as a safe, recyclable packaging material.
----------------------------------------------------------------------------------------------------------------------------------
PLEASE Read__PLEASE Read__PLEASE Read__PLEASE Read__PLEASE Read__PLEASE Read
-----------------------------------------------------------------------------------------------------------------------------------
Due To HIGH Customer COST for SHIPPING of BULK/ Big Box Items We Now SHIP "GROUND"
meaning 'ESTIMATED DELIVERY After SHIPPED From Seller is 3 - 10 BUSINESS DAYS!
"" IF "" You Need These To Your Door Faster than the time to BOTH Process Your Order and THEN Ship By Parcel POST / GROUND..........
...... __ You MUST _ """FIRST""" Message Seller for a Priority Shipping Purchase Link to add the Cost of the Delivery ,.....
.... After Orders are Placed It WILL SHIP as POST / GROUND and You can Expect it with-in a 10 Business DAY Transit Time.
OTHER Items Pictured Are NOT Included in this listing
~~please see in our shop for purchase the Favorite Gotta' Have Paper PaRtY STRAWS!!!!!
PAPER STRAW LINK***
http://www.etsy.com/listing/111451538/simple-elegance-pure-white-75-paper
Getting Family & Friends Together is FUN !!! Don't Stress..."You Got This...!"
Enjoy Your Beautiful Celebration with
FaNcY Garnishes for Simply FaBuLoUs Parties :)
Lola Loves A Party
_____Have any questions? Contact the shop owner.
Have any questions? Contact the shop owner.