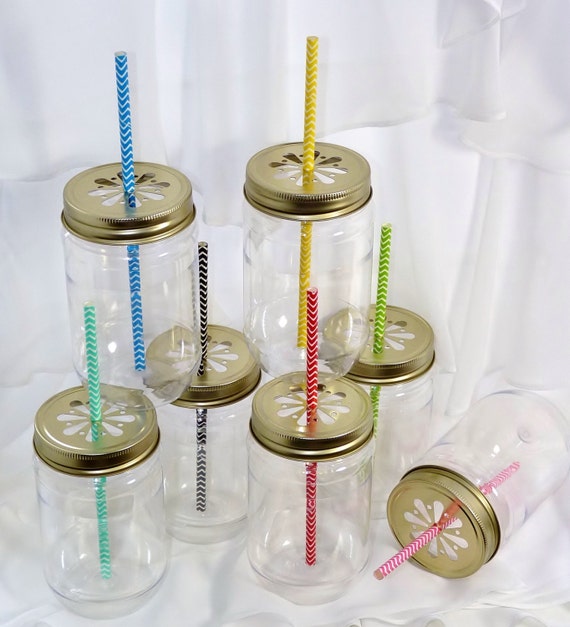 PLASTIC MasoN Style JARs 6 with New GOLD Daisy LiDS & Color Labels…Trendy Fun Vintage Inspired ...InSeRt StRaW in CenteR NoW UNbreaKabLe
By Lola's FaNcY Party Shop
Product Info
PLASTIC MasoN Style JARs WiTH Pewter Daisy LiDS and FREE Color Vinyl Labels…
...6 Trendy Fun Vintage Inspired ...Insert Straw in Center""" Now UNbrekKabLe!!!!:"""""
********These are Simply Perfect! ***********
Serve your Guest Iced Tea, Pink Lemonade, Fun Cocktails without
Worry Of Glass!.....

KicK BacK and EnJoY Your Company!!!:) ~~ using Lola's
PLASTIC 'MASON' JARs and FaBuLoUs Pewter LIDS !!!
***You will recieve---
6 count -- PLASTIC JARS "With- 6-''GOLD'' Lids" " INCLUDED"...AND 6- FREE Vinyl DIY Labels :)
JAR.....@-.. 5" tall X 2 & 3/4" diameter
*******each lid is Unique and Rustic....they are made to Look Worn, Vintage and will vary slightly***
LID size is 2 3/4" diameter
These Fit Regular / Standard Sized Mason Jars***** NOT Wide Mouth Jars****
OTHER Items Pictured Are NOT Included in this listing
~~please see in our shop for purchase the Favorite Gotta' Have Paper PaRtY STRAWS!!!!!
PAPER STRAW LINK***
http://www.etsy.com/listing/111451538/simple-elegance-pure-white-75-paper
Getting Family & Friends Together is FUN !!! Don't Stress..."You Got This...!"
Enjoy Your Beautiful Celebration with
FaNcY Garnishes for Simply FaBuLoUs Parties :)
Lola Loves A Party
NOTE: These items will be shipped GROUND Please see Shipping INFO***