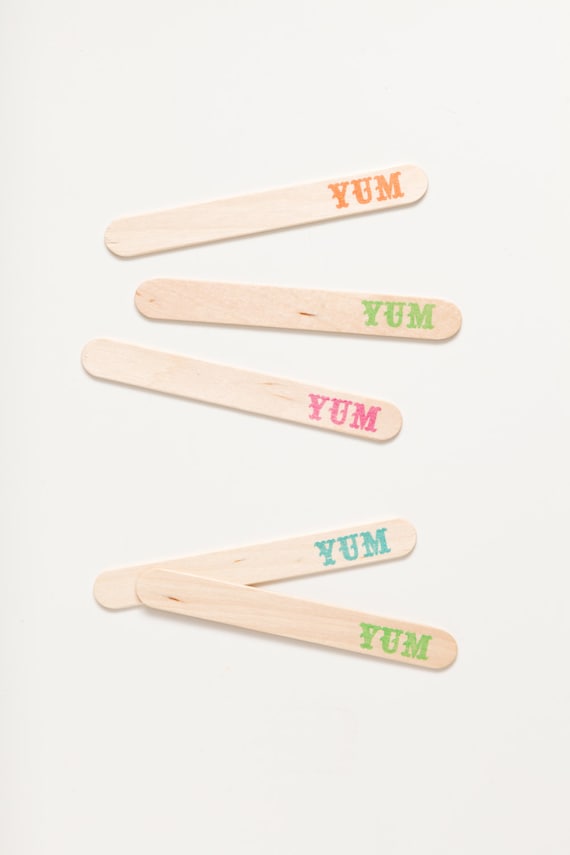 Y U M Sticks - 20 Popsicle Sticks - Make Your Own Popsicle
By Sucre Shop
Product Info
We are dreaming of warm weather and our favorite treat... popsicles! These "Y U M" sticks will make a good thing better. 20 sticks to make your favorite treats, measure 4.5" long, and are intended for one time use.
To make your popsicle:
--> Pour yogurt or fruit juice into a Dixie cup
--> Cover cup with plastic wrap
--> Make a small slit in the center or your plastic wrap & insert striped popsicle stick
--> F R E E Z E + E N J O Y
**************
Thanks for shopping with Sucre Shop! Recognize us? Maybe you've seen us in Martha Stewart Living, Real Simple's blog, Pinterest, or Hostess With The Mostess? So glad you're checking us out!
The Details
Each package contains 20 popsicle sticks. These are intended for one time use. Our utensils are hand printed with non-toxic inks in our St. Louis studio. They're safe and fun for your parties and events!
Options
Please select your utensil type from the drop down menu.
*NEW* If you'd like the color combination pictured, please select "colors pictured". If you are looking for a single color, or other combination of colors, please select "my custom colors".
If you are unable to use the drop down menu, or have custom color requests, please leave us a note with your checkout letting us know what you'd like.
Wait Times & Shipping
Etsy is not set up to offer expedited shipping. But, we are happy to rush your items to you, and can bill you through paypal for any difference in shipping price. If you want to skip that step, you can purchase our RUSH listing, which will automatically upgrade the priority of your order and shipping. Please leave a note in your check out letting us know when you need your items. Don't forget our items are handmade and we normally need 3-5 days to create and ship your items!
Questions?
Please send us a message if you have any questions!! We operate during normal business hours, Monday through Friday, and will respond to any email from the weekend first thing Monday.
Thanks!