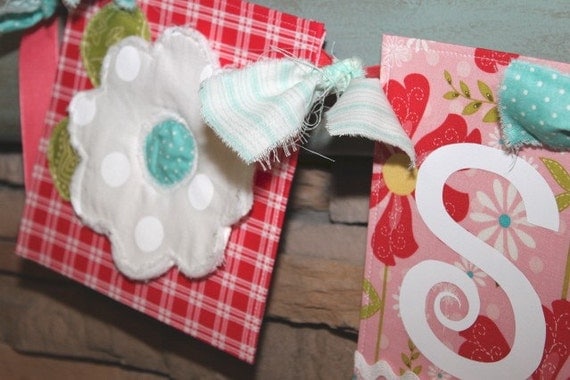 Product Info
READY TO SHIP. {LAST ONE}
Mmmm. This banner is almost edible - like a baby's chubby cheeks. Bright, glorious spring colors - strawberry red, robin egg blue, green apple, daffodil yellow, and crisp white beg for Spring to show its beauty.
The materials are of exceptional quality: quilter's cotton fabrics, satin ribbon, and ric rac trim. Enjoy its beauty and then fold and reuse for many years to come.
You NEED this banner ;) Here are some reasons why:
1)Each flag (ranging from 5"x7"" to 7"x7") is premium cotton floral and polka dot fabrics are used on both sides (not backed with cheap muslim or felt.)
2)The cotton fabric sandwiches heavy duty interfacing, making the flags look crisp and hang well.
3)Each letter is cut from high quality, heat transfer white vinyl so that each is strongly affixed and will endure many years. Placed whimsically (rather than ruler straight)to add excitement.
4)Flags are machine sewn to 7/8" coral pink satin ribbon, allowing for beautiful hanging as well as compact folding when not in use.
5) Ribbon is 1 continuous strand, running across the back of each flag, therefore not taking away from the flags themselves, but giving you ample places in which to attach to your surface.
6)Also, this ribbon placement makes it a snap for you to add any extra ribbon or tulle between or behind the flags.
7)Blossom shapes are made from layers of fabric, machine sewn and washed to give the raw edges a charming "tattered" look.
8)The banner's message of "Spring" can be used in your home, dorm, office, or classroom - anywhere you feel appropriate to proclaim the season's message.)
9)At approx. 5 feet long (plus 18" of extra ribbon on each end), this fabric banner is sure to add eye catching beauty to your home.
10) Customizable - wouldn't this be so fun in a girl's room with her name between the 2 blossoms?