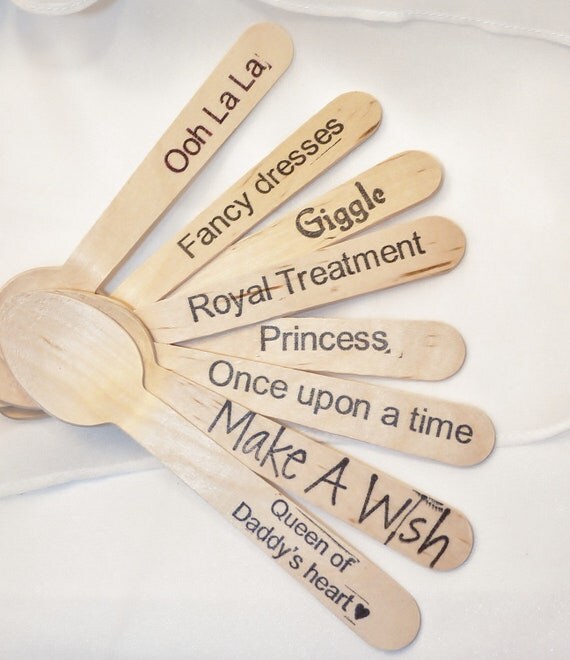 PRINCESS PerFeCt StoryBooK and FaiRyTales Wood Spoons 18 HAND STAMPED Words Custom Favors , Ice Cream Spoons, Eco Friendly
By Lola's FaNcY Party Shop
Product Info
~~~~~~~LOLA LOVESSSSSS THIS ONE!!!!!~~~~~~~ :):):) "TOO" lol
PRINCESS PerFeCt StoryBooK and FaiRyTales Wood Spoons 18 HAND STAMPED
Oh So FaNcY "SILVERware" yet biodegradable wood so after ONE use just toss away and nothing left to "Polish",... but your Nails!
Combination of Above...
PRINCESS PerFeCt StoryBooK and FaiRyTales Wood Spoons 18 HAND STAMPED Words as shown above in listing....
.message seller BEFORE Sale if you wish to Change ANYTHING with the words....
I get loads of messages and we fill the orders as they come in...once there Stamped the sale is Closed...we Do Not check our mailbox for Request after the Sale has Completed...if its not noted BEFORE and then Again AT TIME OF SALE....you WILL Receive an ASSORTMENT as Shown...
****18 piece total!!!****
These are sure to bring many "Oh My's", Smiles & Giggles and i doubt many will get "left behind".
COLLEGE / GIRFRIENDS / SHOWERS / BUNCO NIGHT / CLUB / GoLf Clubs / TennIs ClUb / PrIcnEss / and___ SPA PERFECT!!!!!
PERFECT at Brunch, Garden Parties, Picnics, Family Reunions, Birthdays, Baby Showers, Weddings and BackYard BBQ's!!!
EVERY Utinsel is HAND Stamped, Some may be a little "slanted, lighter, darker...etc..." this goes for both the Ink as well as the Wood Grain.
Again these are FUN, FANCY & Uniquely Yours :)
Getting Family & Friends Together is FUN !!! Don't Stress..."You Got This...!"
Enjoy Your Beautiful Celebration with
FaNcY Garnishes for Simply FaBuLoUs Parties :)
Lola Loves A Party