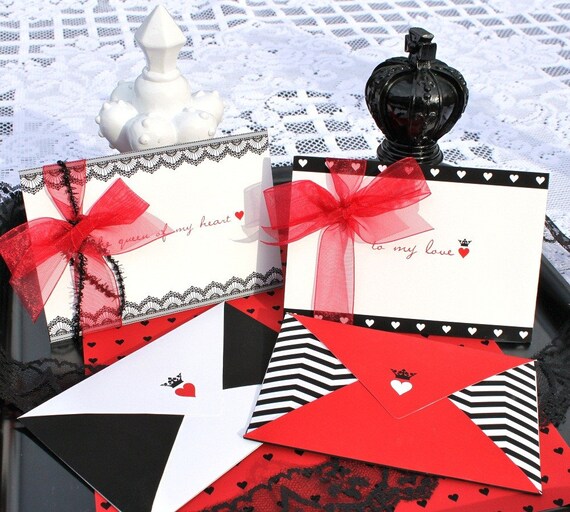 Product Info
Play with the Queen of Hearts this Valentines day with this dramatic dark red, cream and black collection. Chevron patterns, bold graphics and black lace make the statement that love rules! And this Valentines Day, instead of a greeting card, write a personal little love note for your sweetie to make it a little extra special with the Queen of Hearts themed Pochette Love Notes.
With this listing you'll receive you'll receive high resolution pdf files and instructions for the Queen of Hearts themed pochette love notes. The pochette is the envelopment for the love note! In this love note bundle comes high- resolution pdf files for:
---Blank Pochettes in two (2) patterns
---Two (2) pochettes, one of each printed with "to the queen of my heart" and "to my love" on the front
---Blank inner note card
---Two (2) note cards pre printed with love notes
The files are formatted to print on 8.5x11 white cardstock. You'll need a printer (yours or the nearest office supply store's), a sharp pair of scissors or paper cutter.
***These products are for personal use only. You may not use them or any part of the design for any type of sale. All rights remain with Frog Prince Paperie.***