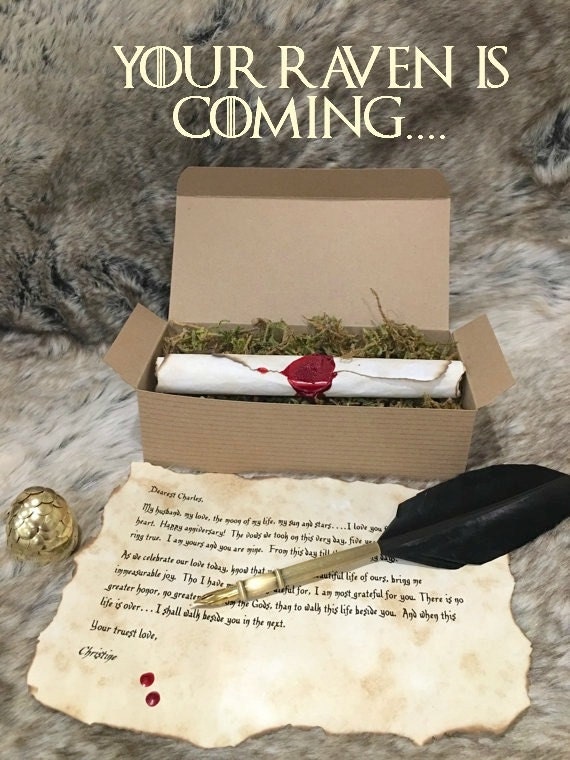 Game of Thrones Scroll - Send-A-Raven - Birthday Card - Gift - Love Letter - Announcement - Anniversary
By RAWR Designs By C
Product Info
The perfect way to profess your love to the moon of your life, wish them a happy birthday, announce a surprise or just a special way to message your favorite Game of Thrones fan, this custom raven mail scroll is sure to be a treasured gift. I will take your words and put them to paper that has been aged and burned at the edges by hand. Your message will then be scrolled, sealed with wax using your choice of sigil (Targaryen, Stark or Hand of the King) and nestled in a bed of Spanish moss inside of a kraft gift box. Your raven-post box will then be wrapped with a natural raffia ribbon and crowned with a single raven feather. Scrolls are shipped via USPS first class mail....faster than a raven and much more trackable. There are 3 keepsake options available that you can add to your scroll order - a golden dragon egg, 3 black dragonglass stones or a handcast pewter dragon necklace. All keepsakes arrive inside of a wine red velvet sack and tucked inside the moss lined box for an authentic and beautiful GoT presentation. Just select your choice of keepsake along with your choice of wax seal and add them to your shopping cart.
**Please note that your scroll will be produced via printer using calligraphy font...they are not hand written. You will thank me if you ever see my handwriting.
HOW TO ORDER:
1. Select your choice of wax seal and make your keepsake selection
2. Add to your shopping cart
3. Add the text of your scroll to the "note to seller" box in your shopping cart. Please be sure to proof your text. I format your message to be scroll perfect but the words, spelling and punctuation are yours ...exactly as you send them to me.
4. The shipping address you enter for your order is where your message will be sent. Be sure to list the recipient's address if you'd like it sent directly to them.
LINK TO MORE INFO ON HOW THEY'RE MADE:
/www.rawrdesignsbyc.com/single-post/2017/07/24/Scrolls-The-Lost-Art-of-Writing-Letters
PROCESSING & SHIPPING:
Processing time is one to three rises of the sun. Processing time does not include USPS shipping speed which is generally 2 to 5 days. Should you need your scroll to arrive swifter than swift, there are expedited shipping methods available at checkout. Priority Shipping will be processed in 2 days and shipped via Priority 1 to 3 day service. Rush service will be processed in 1 day and shipped via Priority 1 to 3 day service.
FAQ:
1. What are my message options?
Your options are only limited by your own imagination…message text is 100% custom…you draft the text and I will produce it exactly as you've written it. Please keep text to a maximum of 250 words.
2. What size will my raven-post message be?
Messages have a max measurement of 6.5" x 10". Your scroll will be sized for maximum aesthetic effect so size will be based on the number of characters you have in your message.
3. How do I order multiple scrolls to be sent to different addresses?
You can place separate orders....1 for each ship to address. OR you can place one order to be shipped to you and mail them to your recipients.
4. Can I customize the scroll and/or box?
Yes, yes, yes! I love customization requests....Etsy shoppers are incredibly creative....your ideas help my shop and my products evolve. Email me with your idea and I will do my best to make it happen.