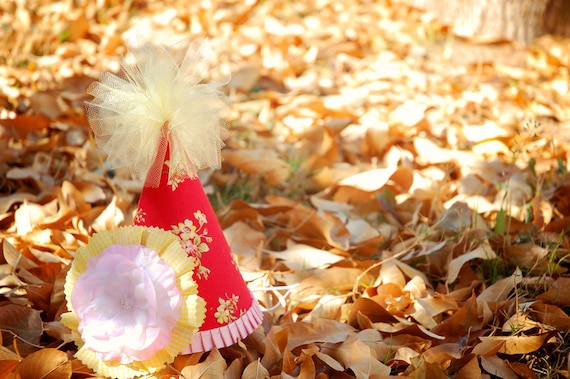 Red Floral Fabric Party Hat, Classic and Sweet
By Tikkido
Product Info
This listing is for one fabric covered birthday party hat. The classic red floral print features delicate blooms in yellows and pinks. I picked up on those tones for the ruffled ribbon edging, the silk flower and fabric accent, and the tulle pom pom adorning the top of the hat.
This hat is sweet and classic, and so much more fun to wear than a hat that can be picked up at your local party store! Comfortable, too! My two year old absolutely insists on wearing one of these party hats whenever we go to a party. It doesn't matter what kind of party, or who is throwing it. Any excuse to wear one of these party hats is a good one, in her estimation!
Thanks to Multiple Blessings Photography for the final picture, included for scale!