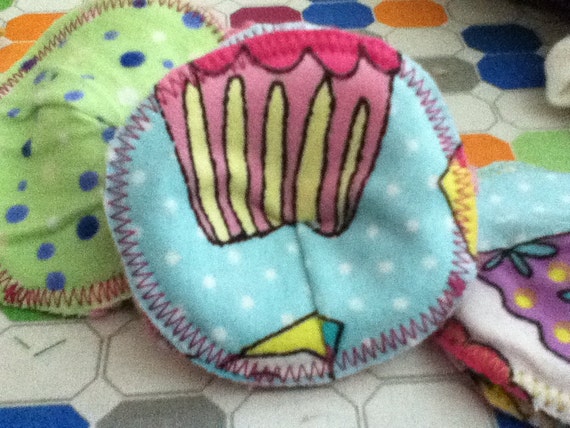 Product Info
Three pairs (six pads total) of washable and reusable nursing pads in a colorful print. Pattern side against a fleece that also becomes a waterproof barrier yet still breathable for Mom protection. Nursing pads are a great, cheap investment for all breastfeeding moms! These nursing pads can be washed and reused for years, which will save both your wallet (and more importantly, your skin) from those scratchy store bought disposables.
Each pad measures approximately 3 1/2 inches in diameter and has a zig zag stitch to ensure longevity. These also have a regular straight stitch to to keep the wear and tear down. Pads feature a layer of waterproof fleece, and 100% cotton flannel for the perfect blend of softness and leak proof protection. Very minimal fraying is normal around the edges. Pads will get softer with each washing.
Once your pads become damp, simply toss them in the wash and switch with a new pair. It is important to change pads regularly to avoid infection and painful thrush.
This set will come wrapped with a bow and ready to give as a gift- or as a nice treat for yourself.
Happy breastfeeding!