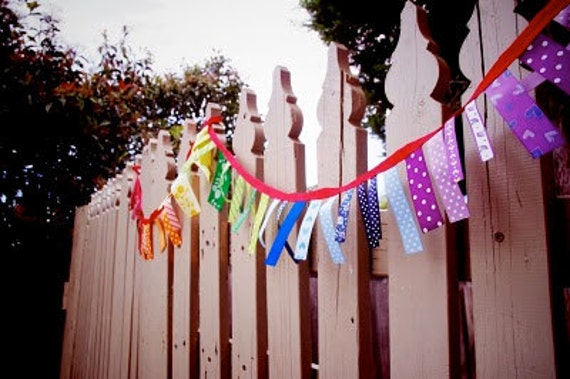 Product Info
Introducing Giggleberry's brand new Ribbon Garlands!!
Made with a complimenting selection of gorgeous ribbons that vary in width, length and pattern this unique garland is just perfect for adding a touch of colour and movement to any space.
This garland features a selection of grosgrain & satin ribbons in a rainbow of colours starting at red then working it's way through orange, yellow, green, blue and ending with purple. The hanging ribbons vary in length with the longest being 3.5 inches long and the shortest just a touch under 2 inches long. All the ribbons are sewn into a red grosgrain ribbon and heat sealed to prevent fraying. The entire length of the garland is 1.3 metres or 51 inches.
Think candy buffets, party decoration, bedroom decor, dessert tables, market stalls, holiday decorating, christmas trees, wedding decor... you are only limited to your imagination when it comes to what to do with these gorgeous handmade ribbon garlands.
I am more than happy to make these at any length and colour/theme combination. Just contact me for details by clicking the 'contact giggleberry' in the side bar or email me at giggleberrycreations [!at] gmail.com.
**PLEASE NOTE: The ribbon designs and styles will vary from garland to garland as these are made at the time of your order with the ribbons we have in stock**
Party dessert table in 4th image of this listing was styled by the talented ladies at Cake Ink http://www.cakeink.com.au - Thank you.