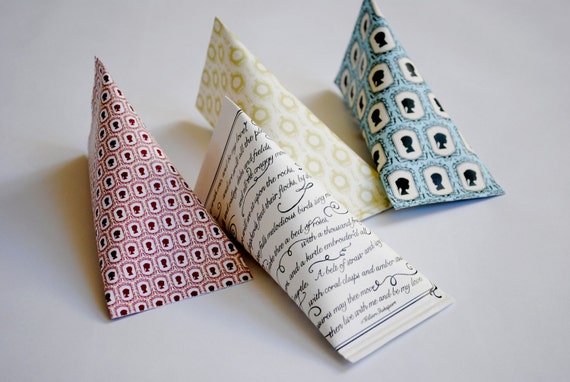 Product Info
I adore these favor boxes! I wanted to create something different and completely unique yet simple, classy and romantic.
This listing includes a set of 8 favor boxes (2 of each design as pictures)
(if you prefer one pattern let me know and I can make all 8 in that specific pattern)
If you would like more (they each cost $2.50) I can set up a custom listing for you to purchase.
I print myself so I can accommodate hundreds..my paper supply is endless!
About the favor boxes:
I print them out myself using medium weight cover stock on my professional printer, the quality and durability is excellent!
I cut, assemble and crimp each box by hand. They will come to you with one open end ready to be filled with whatever delectable you choose.
Ideas for filler:
candy
rice
confetti
Jordan almonds
special gift for your guests
etc
They are bigger than most favor boxes(measurements 3" wide, 6.5" tall )
To seal each favor box simply use strong double sided adhesive tape or hot glue.
EASY IDEA:
They can also be adorned with an antique charm, flower, ribbon etc
The box that is pictured with the script quotes a Shakespeare passage that reads:
Live with me, and be my love,
And we will all the pleasures prove
That hills and valleys, dales and fields,
And all the craggy mountains yields.
There will we sit upon the rocks,
And see the shepherds feed their flocks,
By shallow rivers, by whose falls
Melodious birds sing madrigals.
There will I make thee a bed of roses,
With a thousand fragrant posies,
A cap of flowers, and a kirtle
Embroidered all with leaves of myrtle.
A belt of straw and ivy buds,
With coral clasps and amber studs;
And if these pleasures may thee move,
Then live with me and be my love.
"Shakespeare was quoting a poem of Marlowe's,