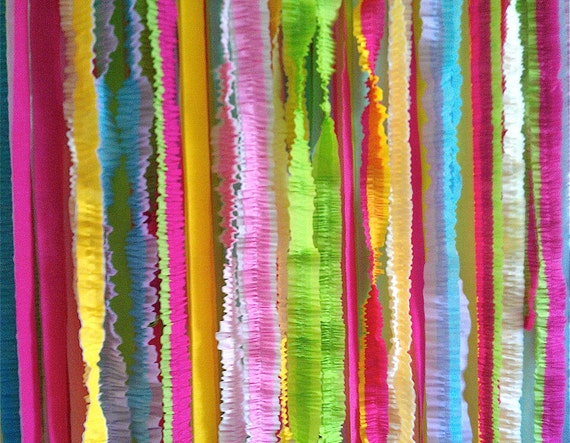 Ruffled Streamer Backdrop - Photography Photo Booth Backdrop - Birthday Holiday Mitzvah Wedding Party Decor
By Charmios
Product Info
This streamer back drop measures approx. 3 feet wide by 6.5 feet high, the size of a standard bedroom door or entrance. The backdrop is made up of two rows of streamers, the back row is made up of single strands (see second photo). The top row is made up of two color ruffled streamers (sewn overlapped, 2.5" width), two color ruffled streamers (back to back, 1.75" wide) and three color ruffled streamers (2.5" width). Two layers of streamers gives the backdrop depth, texture and movement that a single layer of streamers would not (see third photo). The two ribbon ends that hold the streamers are sewn together to hold the streamers in place with 1 inch of ribbon on each end to use to attach with a pin, tack, nail or removable adhesive hook. This streamer backdrop is made up of 679 feet of crepe tissue paper streamer and 10 different colors.
Colors include: Hot Pink, Candy Pink, Classic Pink, White, School Bus Yellow, Mimosa, Pale Blue, Turquoise, Lavender, Kiwi Green. (Colors that go well with any Carnival/Spring/Summer Themed Wedding, Garden or Disney Princess Themed Party).
★ ABOUT ★
Based in the NYC/NJ area, Charmios offers a unique craft party experience for any event, which is guaranteed to make a lasting impression with your guests! We'll create a custom craft project that fits within the theme of your event and bring all the materials to your party location. We'll organize it, handle the set-up, craft time and all the clean up so you can relax and enjoy your special day.
Contact Charmios Craft Party for package options, craft projects, and to book your next event! If you are outside the NYC/NJ area, we offer custom do-it-yourself party kits. For direct links to our blog and Facebook page, be sure to visit our about page.