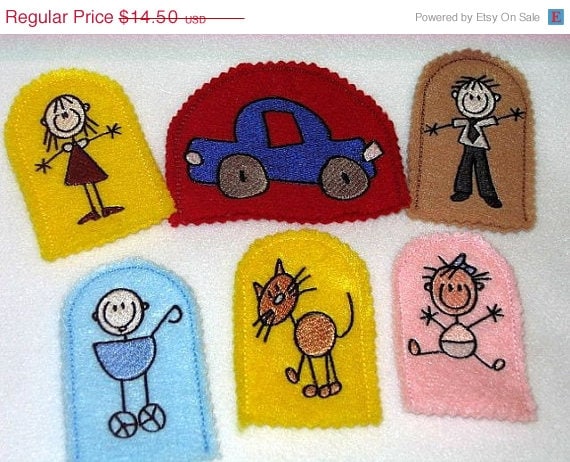 SALE Finger puppet family Set 1 includes car, mom, dad, baby brother, baby sister, and the family cat
By Its The Small Things
Product Info
This is a set of 6 finger puppets.
Lets you children create complete stories with everyone in the family. Your childrens imagination will run wild and create their own stories.
***************
Brother asked mom and dad if he can play baseball.
Mom says "Brother has to do his chores first....you can start by talking the dog for a walk."
Sister's chores are litter box duty.... Sister says" Ewwww!"
After the chores are done everyone even the dog jumps in the car to go visit Grandma and Grandpa.
**************
We have other set which has Grandma, Grandpa, mom, dad, big brother ,big sister, baby brother, baby sister, car, house, cat, and dog.
Each one measures about 2x3 1/2" except the car which is 4x3 1/2" and made from assorted colors of felt, colors will vary.
This set is perfect for baby sitters, moms, grammas, preschool, birthday gifts and more! Great teacher gifts!!!
Great entertainment while traveling in the car or airplane or when waiting at restaurants or Dr. office. Carry them in your purse, car, and diaper bag for quick entertainment.
We can also make this set with the same felt colors or any other changes you would like. We love custom orders. Made of eco friendly felt.