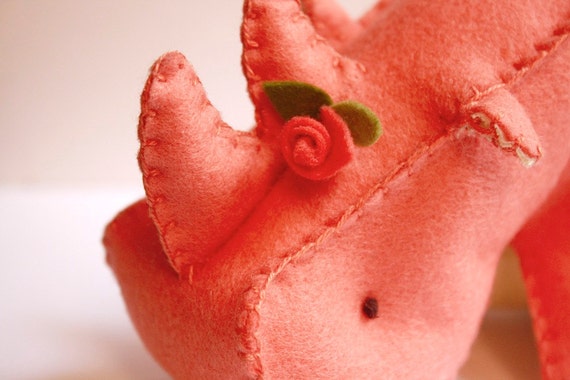 Product Info
Meet Regina A Hand Crafted Wool Felt Rhino
=====
Regina is Riley's best friend. She lives right next door and is often the accomplice to his many mischievous adventures. She loves cream-sicle pops and is always seen with a flower in her hair. Keeping Riley out of Ms. Giraffes flower bed are what keeps her busy most days.
Regina measures approximately 8.5" inches long, 4.25" inches tall by 3.25" inches wide. I made her completely by hand using a 100% peach wool felt and matching purl cotton embroidery thread. She wears a dark orange flower near her horns just for Riley. Her belly is made with a soft, pastel green polka-dot fabric. A machine stitched safety bag of rice sits inside her belly to give her weight, and all natural cotton fibers are what make her lovable and huggable. Perfect for your little ones' hands.
Regina makes a great first gift for baby. She is the perfect addition to a child's room, adding a soft touch to the delicate feel of a nursery.
Looking for Riley, the blue rhino? View him here: http://www.etsy.com/listing/66937722/meet-riley-a-hand-crafted-wool-felt
Note: Because Regina has a small bag of rice in her center, please supervise children while at play. She is made with the highest safety precautions, and although the rice bag is securely stitched closed, this toy may not be suitable for children ages 3 years and under.