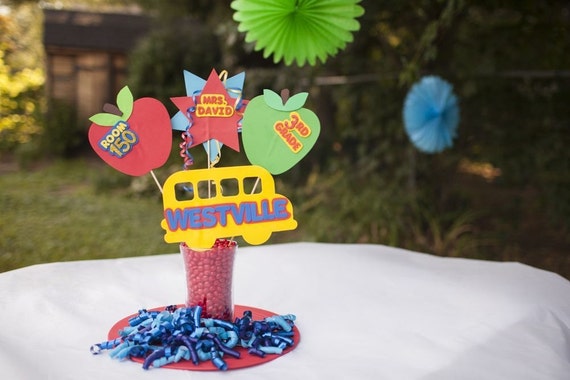 Product Info
This set of 4 school-themed spikes will spruce up any classroom! You'll receive one of each: Star teacher, red apple, green apple and school bus. These single-sided foam decorations measure 5-7 inches each and are firmly attached to a lightweight yet sturdy 12" wooden dowel with a pointed end.
Use them all together or separately in a vase, plant, flower arrangement or basket of treats. They are even long enough to use as a layered cake topper!
This listing is for 4 single-sided school-themed spikes in primary colors as seen in the 5th photo. Container, candies and other table accessories are not included. These are the only colors available for this product. Each spike can be personalized. The example shows a teacher's name, classroom number, grade and school name. Make sure to note your requested personalization when you order.
If you would like more, you can order multiple sets or ask about special pricing for bulk orders! These items are made to order and those in the photos are examples. Slight alterations from the photos may occur dependent on available materials. This item contains small parts that may not be suitable for children under the age of 3.
Most orders are ready to ship in 5-7 business days. Special requests may take a bit longer.