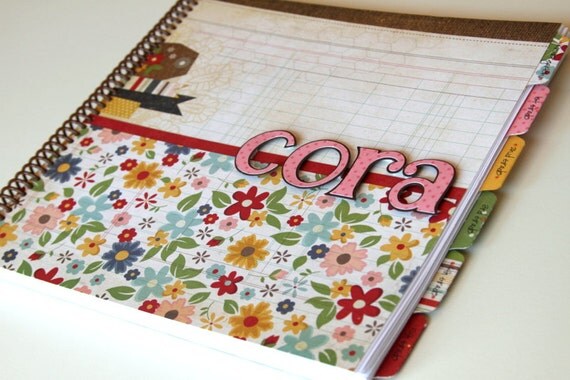 School Memory Book * School Journal * School Days Scrapbook * First Day of School Scrapbook * CORA design
By Spunk & Love
Product Info
Did you get tired of your child's class photo sitting in a pile on your desk? So did I! I wanted to keep momentos and pictures from the year but had no idea where to put them, so I made these school memory books which have been the perfect solution for my family!
Each personalized book (see personalization info below) measures 9.5"x9.5", has tabbed sections for Kindergarten through 5th grade and each section includes the following pages:
*a first day of school photo page with room for a sweet 4x6 photo and a few lines to write down how the big day went.
*a page for your child to write his or her name (how fun to watch their writing change over the years!) or draw a self-portrait or both.
*an "interview" page with 10 questions to ask your child before school starts (again, fun to read through how their answers will change through the years).
*2 pages for a 4x6 photo and journaling lines - use these for photos with friends, a picture with the teacher, or from special events throughout the year (i.e. field day, last day of school, etc.).
*a page for that adorable class photo that you have no idea what to do with!
*2-sided blank page for artwork, additional pictures, or to write down additional memories from the year.
***each section also has a 9.5"x9.5" envelope to hold report cards, certificates, notes from friends, etc.
Your book will have the front cover shown in the main picture above and a laminated back cover as shown in the last picture.
We can add additional grades (preschool, 6th grade, 7th grade, or 8th grade) for $4.50/section. Just select how many additional grades you'd like in the "Select Grade Options" drop-down menu and let me know which specific grades you'd like added in the message box at checkout.
PERSONALIZATION: We will place your child's name on the front cover at no additional charge, just let us know the name you'd like on the cover in the message box at checkout. Please note, however, that the letter size will vary depending on the length of your child's name. If at all possible, nicknames are great for longer names. In the case of a *really* long name, please consider providing initials instead.
If you have any questions, please don't hesitate to ask!