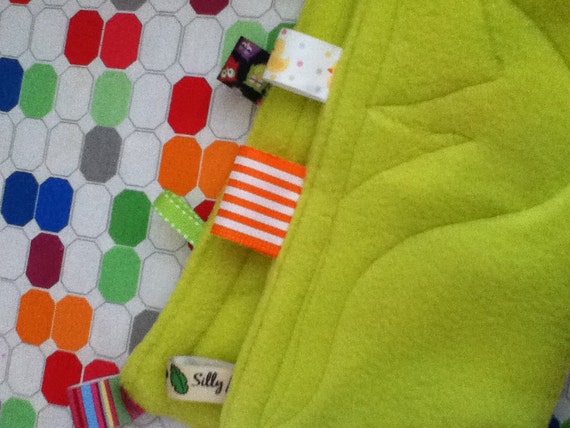 Product Info
LIME GREEN with Owls and Monkeys and Duckies 12 x12.
This Tag blanket has lots of ribbon tags to assist in developing your baby's hand and eye coordination. Most loved by babies age 3 to 18 months, especially when teething! Also makes a great carry everywhere blanket as soon as baby starts toddling and is a great baby shower gift!
The square is made from soft fleece fabric and measures 12x12" with the ribbons extending about 1 to 2 inches beyond. Ribbons have been sewn in well for durability.The blanket comes with a applique that says Handmade with Love.The blankets need to be machine washed gentle on cycle. Dry in dryer on low heat.
This tag blanket is for situations when your baby needs a quiet toy to play with, like at the doctor's office or in church. Please request if you would like a crinkle inlay to be placed in the toy at no additional charge. Will not have, if not requested, Since each blanket is handmade, tags and ring may be vary in color but each blanket is made in bright colors. You can also message me if you prefer more of one color tone. Just let me know.