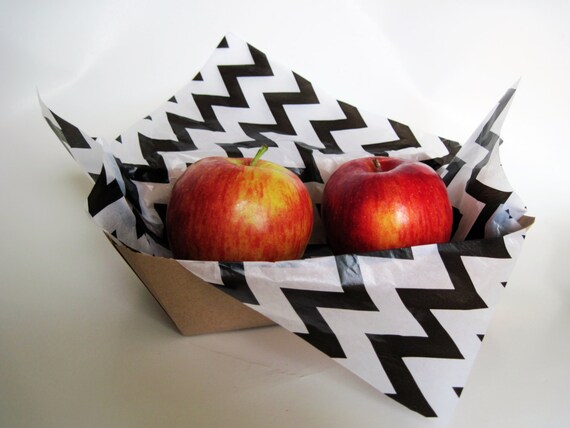 Wax Paper-25 Sheets of Black and White Chevron Wax Paper-Deli Sandwich Wrap-Box and Tray Paper Liners-Black Zig Zag Wrapping Paper 12" x 12"
By Creative Juice Cafe
Product Info
This 12" x 12" Chevron wax paper deli wrap will add that extra special element to your food presentation you have been looking for. Made of microwavable, grease resistant paper, This 12" x 12" deli sandwich wrap paper is perfect for wrapping sandwiches or lining paper food trays.
You can use this deli wrap for serving food but you could also use it to wrap presents, create great scrapbooking projects, or..... use your imagination (or pinterest) and get your creative juices flowing.
After many requests for other patterns of deli wrap we have decided to have our own unique design manufactured. You can only purchase this Chevron wax paper deli wrap from CREATIVE JUICE CAFE. We will be adding more colors in the future. Drop us a line and let us know what other colors you would like to see this design in.
Set of 25 sheets___________________________________________________________
Want to get the best price possible? Use the following coupon codes-
SAVE10 ---- 10% off a minimum purchase of $10
SAVE15 ---- 15% off a minimum purchase of $25
SAVE20 ---- 20% off a minimum purchase of $60
________________________________________________