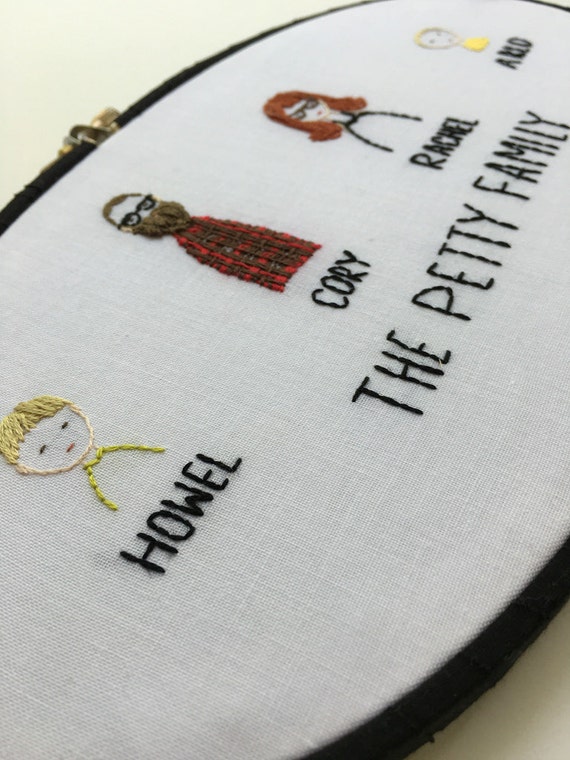 custom family portrait.hand embroidery.stitch portrait.custom embroidery.embroidered hoop art.stitch my family.dog portrait.custom portrait
By daisyeyes handmade
Product Info
** now available in oval hoops!! **
this is a hand embroidered, custom heirloom featuring a group of sisters, brothers or a mix of family or friends. the perfect, one of a kind gift for a mom, dad, grandmother or friend. This would even make a great one of a kind wedding gift for the bride and groom.
Portraits come on a 4" to 10" embroidery hoop and can include up to eight people.
Each portrait is stitched on white muslin fabric and finished off with your choice of either ric rac around the edges or a hoop wrapped in black or a custom color.
When ordering please include the following info for each person:
hair color
hair type (straight, long, curly, pig tails, bun)
glasses
eye color
skin tone (a fleshy pink is used if not noted)
clothing color choice
name or nickname
Find embroidered hoop art, custom embroideries, pendants, bookmarks and more on my homepage :: https://www.etsy.com/shop/daisyeyeshandmade
View more photo examples in my flickr album found at http://www.flickr.com/photos/daisyeyes/sets/72157636728155654/
After ordering, pictures are very helpful in the design process!
You can email photos to Aimee at daisyeyes06@gmail.com
********
This is a made to order item with a turn around time of roughl 4-6 weeks depending upon my embroidery load. I try very hard to finish my orders as quickly as possible and many times I beat my estimated times by a week or so.
********