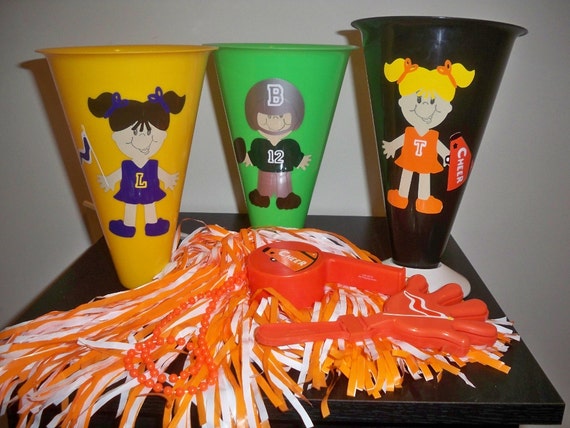 Product Info
PLEASE ALLOW AT LEAST 10 BUSINESS DAYS PLUS SHIPPING TIME FOR YOUR ORDER
HOW STINKIN CUTE ARE THESE?????
We are very excited to present our newest party favor idea in these adorable cheerleading megaphone. Little girls and bigger girls too LOVE being cheerleaders so the cheerleading party is the perfect idea for their theme party and these 8-1/2 inch metaphones make the perfect party favors.
OTHER SPORTS THEMES AVAILABLE!! SEE LAST PICTURE!
The megaphones come with their own snap on white base so they will stand up and can be filled with goodies for the party.
We have positioned the cheerleader and the varsity letter on the megaphone so it is upright when the megaphone is on the base BUT YOU CAN REQUEST HOW YOU WANT THE CHEERLEADER ON THE MEGAPHONE TO SUIT YOUR PARTY THEME IDEAS
Colors and designs are available. Personalize with your favor team or the varsity letter can be that of your birthday girl and/or one of the first initial of all your party guests, your choice but both the varsity letter and the cheerleader are included in the design.
NO THEY ARE NOT STICKERS, THEY ARE crafted from vinyl from the DESIGNERS art. Vinyl has a very aggressive adhesive so the designs will last forever, are weatherproof so they can go to the beach and unlike paint or stickers, the designs STAY ON for many years.
PRICE IS FOR ONE MEGAPHONE AND ONE BASE.