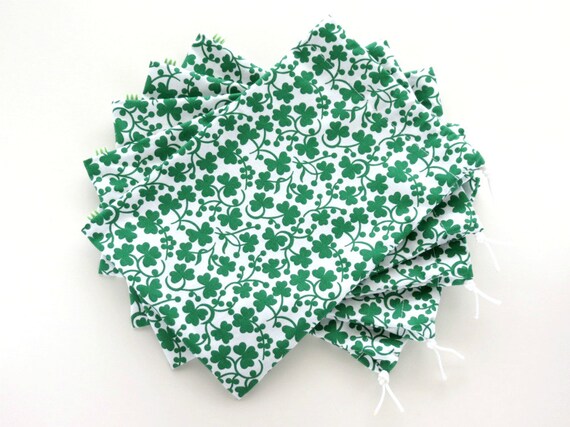 St. Patrick's Day Party Favor Bags / Irish Cloth Gift Bags / Lucky Clover Fabric Goody Bags / Treat Bags / 6.25 x 9.5 inches / Set of 5
By inchworm goody bags
Product Info
These pretty clover party favor bags are just the thing for a St. Patrick's Day party or celebrations that welcome a little Irish good luck. Your guests will love that these bags are REUSABLE! Repurpose them to store treasures, tote toys, or wrap a present for a friend. Each set includes FIVE goody bags, ready-to-ship.
These cotton goody bags are a WONDERFUL SIZE (approximately 6.25 x 9.5 inches), versatile so they can fit a variety of goodies. To give a sense of the dimensions, these eco-friendly bags can accommodate full-length pencils, a small board book, or a CD. You can simply include a couple of small treats or pack them full. Kids and grown-ups alike love that they also get to keep a fun bag that they can use after the party is over.
Inside the bags, the fabric edges are finished so they won't fray. I use a durable, high-quality cording for the knotted drawstring closure; so there's no need to fuss with retying. All the bags I make are WASHABLE with cleaning instructions on a satin tag inside each bag.
If you don't see a fabric in my shop that matches the theme of your celebration, please write me; with a little lead time, I can sew a custom batch of goody bags for you.
Email: info@inchwormgoodybags.com
Shop: http://www.InchwormGoodyBags.etsy.com