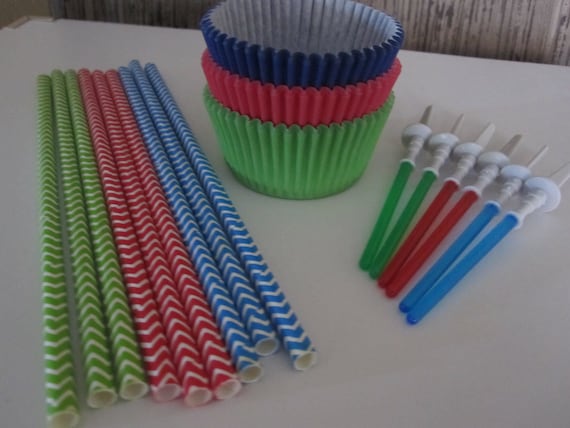 Star Wars Light Saber Cupcake Topper or Straw or Baking Liner
By DK DeleKtables
Product Info
We all know how fun it is to play Star Wars by swing around our pretend light sabers.
What a blast to put these on top of your home made or store bought cupcakes!
Pair up with the Luke & Darth Vader ring toppers.
We love fun, simple and economical.
This party pack is a quick and easy way to theme your next party!
This listing is for your choice of the following:
~ 12 or 24 Light Saber toppers
(assortment as shown)
~ 24 paper straws
(8 each.blue, red & green chevron)
~ 24 standard size designer* baking baking liners**
(8 each blue, red & green solid)
Choose 12 toppers,24 straws & 24 baking liners for under $9
(with 24 toppers under $13) What a bargain!
*These specialty Designer Liners keep your colors bright even when using dark batters.
Star wars darthvarder / storm trooper set
https://www.etsy.com/listing/154941570/star-wars-luke-darth-vader-cupcake
Please message us with any questions.
Thank you for visiting DK DeleKtables!
Deann & Kathy
**All cake batters are going to react differently to the variety of liners we carry. For most liners if you want the color or design to show it is best to use a light cake. If you are baking for an event it is always best to do a test bake to see how the batter you are using will react to the liners. We are not responsible for how a cake batter reacts to the liners as there are many variables involved in baking. We carry a variety of liners from different manufacturers and the paper thickness, type, size and colors may vary. If you have specific questions please contact prior to ordering.