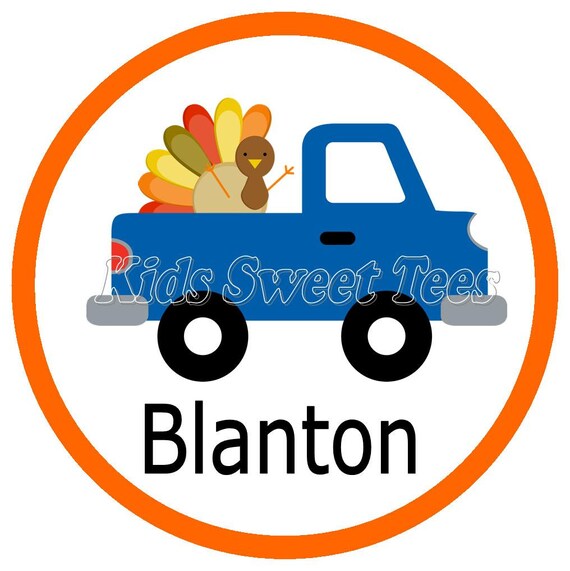 Thanksgiving turkey in a truck- personalized - digital image - Fall - Autumn
By Kids Sweet Tees
Product Info
♥♥♥ HOW TO ORDER ♥♥♥
When ordering please include in the notes to seller:
1. Childs name or monogram - Font # - Image size
ex: Monogram Anchor boy - cRa (firstLASTmiddle) - font as seen - size 6.5 inches
If ordering a shirt as include shirt size and style.
_________________________________________________________________________
♥♥♥ WHAT AM I BUYING? ♥♥♥
► DIGITAL IMAGES are sent as high resolution JPEG images to the email address associated with your Etsy account unless you tell me otherwise. They are sent within 2 business days. All digital images MUST include a name or monogram. No blank files will be sent. No physical product will be mailed. There are no refunds for digital images once I have emailed them to you. Please understand what you are purchasing BEFORE you buy! You will need to provide an inkjet printer and transfer paper to print on.
or
► PRINTED TRANSFERS: Shipping is INCLUDED in the price!!!
These are printed on professional grade transfer paper that can go on ANY color, 100% cotton shirt. I also use a special ink that is made just for printed transfers. Transfers will include directions and silicone sheets used for ironing. They will be mailed within 3 business days by USPS first class mail.
or
► COMPLETED SHIRTS: Shipping is INCLUDED in the price!!!
Ruffle shirts are available in 12m - size 10. Even sizes only. These are Blanks Boutique shirts are VERY high quality adorable shirts. These run true to size but are meant to be more fitted and not baggy if worried order up. I also have matching doll shirts in a ruffle style in both short and long sleeve and a plain tee version in short sleeve only. White shirts only.
Boy cut shirts are available in 12m - size 6 even sizes only. These are also Blanks Boutiques shirts and as a mother of a boy I LOVE how these fit. These run true to size but are meant to be fitted, not baggy if worried order up. White shirts only.
Youth and Adult shirts are unisex Gildan brand shirts. They run true to size to a bit large. Sizes Youth S, M, L, XL. Adult S, M, L, XL, XXL. White shirts only.
Please allow 10 business days for shirts to ship. Images are applied with with a professional grade transfer and heat pressed onto the shirt. They are soft and stretchy and get softer when washed. Care instructions: Wash shirt before wearing. Turn shirt inside out and wash in cold water with mild soap. Dry on low or lay flat to dry. Do not bleach or iron on top of decorated area. I reserve the right to enlarge or shrink image as I see fit per shirt. Upgraded shipping may not be available for shirts if I do not have the size you need in stock. Ask before assuming. :)
_________________________________________________________________________
♥♥♥ INFO YOU NEED TO KNOW ♥♥♥
► If you want changes to the image please make sure to convo me first to make sure I can do the change. Some changes do require a custom design fee in addition to the cost of the image. (name and age changes are always included at no additional cost.)
► Font choices and shirt examples are in the extra photo section below the main photo.
► If you DO NOT include a font choice or images size your purchase will be sent with the font as shown in the image example and will be sent at 6.5 inches
► You need to purchase one image per name so if you have three names, you will need to purchase 3 copies of the image
► Shipping costs are INCLUDED in the price of the printed transfers.
► Please note that colors on your screen may appear different then what is actually printed.
► Watermark will be removed from purchased item.
► This item is for personal use only and may not be copied, extracted, shared or reused in anyway. Sorry, not commercial use allowed.
► When choosing an image size generally 4 inches for 6-12 months old. 6.5 inches for preschool age and 8 inches for adults. I can do any size from 2.5 up to 8 inches.
► Shop is open Monday - Friday excluding holidays
► Shipping price is only included in US shipping. International shipping is additional and you will need to contact me for a price quote and to set up a custom listing.
► Have more questions or need tips? Check out this link: https://www.facebook.com/editnote.php?draft¬e_id=573567289368720&id=251356101589842
*********************************************************************************************************
I create some of the clipart used in the images and sometimes I incorporate the clipart, papers, design elements, and fonts that are created and owned by some other very talented artists. Be sure to check them out.
Jessica Weible Illustrations: http://www.etsy.com/shop/JWIllustrations
Maree Truelove: http://www.etsy.com/shop/MareeTruelove
Decorartist: http://www.etsy.com/shop/decorartist
Printcandee: http://www.etsy.com/shop/printcandee
SquiggleDot Design: http://www.etsy.com/shop/SquiggleDotDesigns
Moo&Puppy: http://www.etsy.com/shop/mooandpuppy
Hello Love Too: http://www.etsy.com/shop/hellolovetoo
Blackleaf Studios: http://www.etsy.com/shop/BlackleafClipart
Goodness and Fun: http://www.etsy.com/shop/goodnessandfun
Petittatti: http://www.etsy.com/shop/petittatti
Riefka Designs: http://www.etsy.com/shop/riefka
PeachPoPsClipArt: http://www.etsy.com/shop/peachpopsclipart
Smiles and Squiggles: http://www.etsy.com/shop/smilesandsquiggles
dxpi Design: http://www.etsy.com/shop/dxpidesign
Kevin and Amanda Fonts: http://www.kevinandamanda.com/
Zenware Designs: http://www.mygrafico.com/zenware-designs/aff_14.html?page=4
Cocoa Mint: http://www.cocoamint.com/
Clipart Design: http://www.etsy.com/shop/clipartdesign
DeamALoft: https://www.etsy.com/shop/DreAmLoft
MyClipArtStore: https://www.etsy.com/shop/MyClipArtStore
Great Graphics: https://www.etsy.com/shop/GreatGraphics
HelloLoveToo: https://www.etsy.com/shop/hellolovetoo
KandyMagick: https://www.etsy.com/shop/KandyMagick
Jessica Sawyer Designs: https://www.etsy.com/shop/JessicaSawyerDesign
Grephic: https://www.etsy.com/shop/Grepic
Peach and Mint: https://www.etsy.com/shop/PeachAndMint
Clipartland: https://www.etsy.com/shop/clipartland
J. Design's Handmade: https://www.etsy.com/shop/JDesignsHandmade
Valeriane Digital: https://www.etsy.com/shop/ValerianeDigital
Lime Bits Creative: https://www.etsy.com/shop/LimeBitsCreative
Clipclaps: https://www.etsy.com/shop/ClipClaps
Sugar Studios: https://www.etsy.com/shop/sugarstudios
Babystar Designs: https://www.etsy.com/shop/babystardesign
Nina's Design Studio: https://www.etsy.com/shop/Ninasdesignstudio
Klouise Digiart: https://www.etsy.com/shop/KlouiseDigiArt
Digitalpotpourri: https://www.etsy.com/shop/digitalpotpourri
Absolutely Janie: https://www.etsy.com/shop/AbsolutelyJanie
KH Digi: https://www.etsy.com/shop/KHDigi
TM Designs: https://www.etsy.com/shop/TMGraphicDesigns
Raven Jony: https://www.etsy.com/shop/RavenJony
Clementine Digitals: https://www.etsy.com/shop/ClementineDigitals
Spring Hill Graphics: https://www.etsy.com/shop/SpringHillGraphics
Lovely2cu: https://www.etsy.com/shop/Lovelytocu
Asethetic addiction: https://www.etsy.com/shop/aestheticaddiction
TRM Design: https://www.etsy.com/shop/trmDesign
Dragonfly Twist: https://www.etsy.com/shop/Dragonflytwist
Cherry Clipart: https://www.etsy.com/shop/Cherryclipart
HoneyDew Design: https://www.etsy.com/shop/HoneyDewDesign
Sun Kissed Graphics 2: https://www.etsy.com/shop/SunkissedGraphics2
Cupcake Cutiees: https://www.etsy.com/shop/cupcakecutiees
Corazondulce: https://www.etsy.com/shop/corazondulce