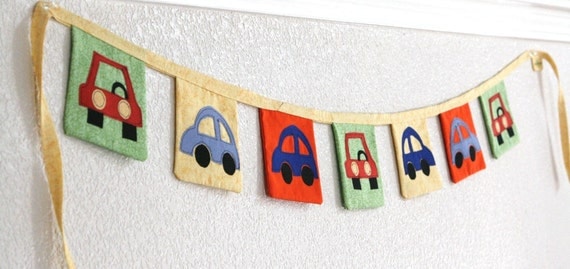 Cars sign, cars banner: Customize color scheme
By EljahB
Product Info
This is a listing for a custom banner focused on methods of transportation that we all love: planes, trains, and automobiles. You can have just images of transporation or blocks framing a name. It's up to your vision
*******THE PRICE AND IMAGES ARE JUST EXAMPLES. PLEASE CONTACT FOR YOUR PRICE***********
If you would like to have a custom banner made to fit your colors and theme, please message me.
****This banner only comes in block style to support the appliques.
WHAT YOU GET WITH YOUR PURCHASE:
*Eco-friendly, reusable banner for year after year
*100% high quality designer fabric in front and back (not felt, muslin, or broadcloth)
*double layer fabric to provide weight so it hangs nicely
*finished edges on each block
* hand made bias tape (string) made out of matching fabric
*Because both sides of the banner are designer fabrics, if hanging in a doorway, there is extra décor.
*bold, hand--traced and cut out lettering
* decorative blocks on either side to set a theme. Small pieces are sewn down.
*letters are securely fused to fabric
*unique banner; banners are never the same
*CUSTOM…I can do any name, word, or saying you would like
*handmade with love and care; if I wouldn't hang it in my house, I don't post it!
MORE IN DEPTH:
Because this is about your vision, you get to choose the color scheme and decor blocks (plane, train, auto; front or side design) that will frame the name for your banner.
Each block is 4.5x4.5inches when finished. The hanging bias tape is hand-made out of one of the fabrics used in the banner. There will be at least 6 inches on either side of the banner for hanging.
If you are interested in purchasing your transportation theme banner, please contact me so I can provide accurate pricing for your banner. I will then update this listing for your specifications and pricing so it will be available for your purchase.
THANK YOU!
CARE: please spot clean only with a damp cloth to ensure your banner stays beautiful for repeated uses
**********SHIPPING: PRIORITY SHIPPING with TRACKING is included in your shipping fees. This ensures prompt and safe delivery of your custom item. ************
INTERNATIONAL BUYERS WELCOME…just message me and I will figure out the shipping costs.