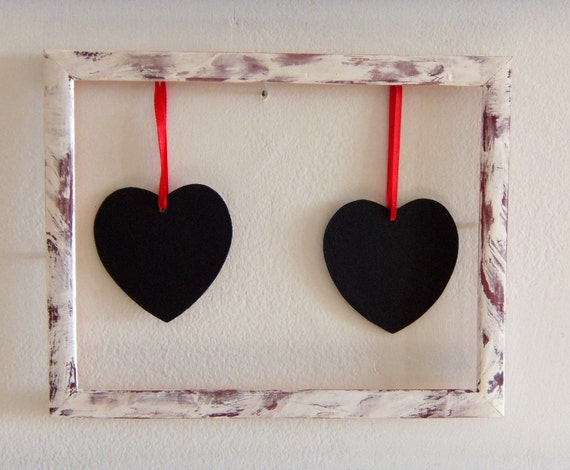 Two Hearts -- Heart Shaped Chalkboards, Gift Tags, Wedding Decor, Table Numbers, Tree Ornament
By ChalkStyle
Product Info
This is a set of two heart-shaped chalk boards that are both decorative and practical for a wedding or everyday life. The blackboards are made of 1/8" thick recycled hardboard coated with three thick layers of chalkboard paint.
Use this heart-shaped chalk board as:
- tag for wedding table
- a rewritable gift tag or greeting card
- mini-chalk board for your kids
- tag for drawers or closets
- tag for the cookie jar or sugar bowl
- chalk boards for your fridge/ kitchen to leave a message for your kids or loved one
- a chalk broad to jot down reminders for the day
- a message board for your family
- Christmas tree ornament or decoration
Size:
- 3.5 inches high
- 3.5 inches wide (at its widest)
The chalk boards have a hole and a red ribbon for hanging. Please let me know if you prefer these hearts without any holes. I can also replace the red ribbon with a piece of black thread, please specify if you prefer this option.
I recommend regular, old-school chalk for these chalkboards. To clean this chalkboard wipe the chalk off with a piece of moist felt or a tissue paper and re-use it as many times as you want.
I make other shapes of chalk boards, check out my Etsy shop:
http://www.etsy.com/shop/ChalkStyle?ref=si_shop
or send me a private message for a custom order. This is a mini chalk board but any of the designs you see in my shop can be made into larger pieces if that is what you prefer.
If you would like a set of four hearts, find them in my shop here:
http://www.etsy.com/listing/86838978/heart-shaped-chalk-boards-set-of-4-for
** Please note that the frame is not included in the price, I used it for the purpose of taking pictures, however, I make these frames and they are available with my chalkboards: https://www.etsy.com/listing/94875615/11x85-chalkboard-with-shabby-chic-frame **
**Please note that this chalkboard is painted manually, so you may notice subtle paintbrush traces, which prove the item is handmade and sets it apart from mass-manufactured items.**