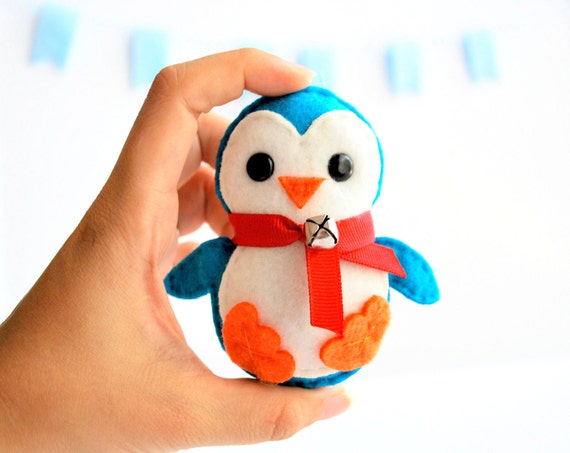 Felt Penguin Ornament, Handmade felt Christmas Ornament, Baby penguin ornament, EcoFriendly felt, Hand-stitched Ornament A137
By MariaPalito
Product Info
MariaPalito is going on Vacation!!! After a long and busy year, MariaPalito is taking some days off to recharge and rest. Please be aware ALL orders placed within DECEMBER 15th and JANUARY 6th will start being processed on JANUARY 6th in the same order they were received; that means, shipping will resume around JANUARY 7th and so forth.
I will keep receiving CUSTOM ORDER for JANUARY delivery.
If you have ANY questions, please be aware I will be on limited connectivity so I may take a couple days to answer but be patient.
-------------------------------------------------------------------------------
MADE TO ORDER --- As Seen In BETTER HOMES and GARDENS Magazine -
Baby Penguin Christmas Felt Ornament. Eco friendly Felt Baby Penguin Plush Christmas Ornament .This Eco-Friendly Baby Toy is the perfect for this Holiday Season as a tree Ornament, Christmas Decor or just to be the first Ornament for a cute little baby. Also it can be used as a Baby Shower Gift or just as a Stocking Stuffer in any of your kid's Christmas stocking.
He is a cute baby Felt Christmas penguin Christmas Ornament ready to hung in your Christmas Tree. This cute toy would be a perfect gift, room decoration, Christmas Ornament, baby shower or a party favor.
This Christmas Ornament measures approximately 4.5 tall by 3.5 inches wide and is entirely hand cut and stitched.
All my toys are totally hand-stitched using only Eco-friendly felt from recycled post-costumer plastic bottles. I design all my toys from scratch, I made the sketch, then I cut the shape pattern, I decide the textures, cut the pattern and then I sew it!
------------------------------------------------------
SEWING PATTERN :
https://www.etsy.com/listing/150441293/penguin-baby-christmas-penguin-ornament
SEWING KIT:
https://www.etsy.com/listing/160332453/diy-baby-penguin-sewing-kit-sewing-kit
SEWING CLUB: Each of my Toys and sewing Patterns are created thinking on your enjoyment. Recently I created a club for people who like you enjoy sewing toys following my patterns. The Club is called "The Pattern hub", You can subscribe for $65 dollars and get 24 patterns in a 1 full year membership plus exclusive access to the content. I invite you to visit thepatternhub.com/. or you can order your membership here: https://www.etsy.com/listing/63545585/24-sewing-pattern-club-membership
I would love to hear from you, Contact me if you have questions, requests or any comment about my products. Be sure to see more of my work and items at http://mariapalito.etsy.com