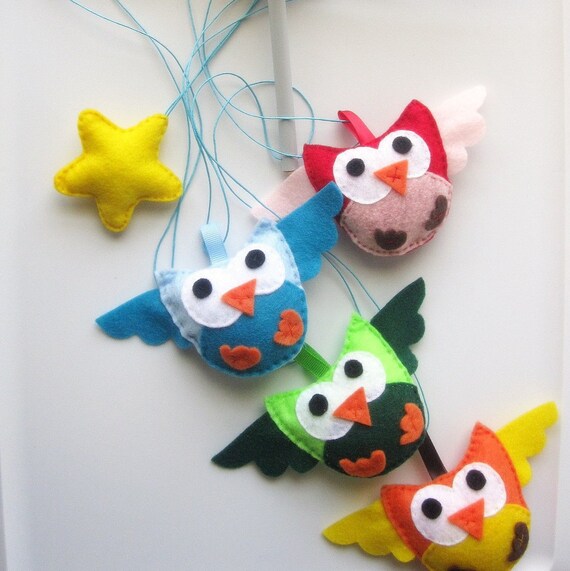 Owl Mobile, Cute owl Nursery mobile for your baby room A377
By MariaPalito
Product Info
MariaPalito is going on Vacation!!! After a long and busy year, MariaPalito is taking some days off to recharge and rest. Please be aware ALL orders placed within DECEMBER 15th and JANUARY 6th will start being processed on JANUARY 6th in the same order they were received; that means, shipping will resume around JANUARY 7th and so forth.
I will keep receiving CUSTOM ORDER for JANUARY delivery.
If you have ANY questions, please be aware I will be on limited connectivity so I may take a couple days to answer but be patient.
-------------------------------------------------------------------------------
Owl Mobile, Cute owl Nursery mobile for your baby room.. Cute Owl Mobile for your nursery room, Baby Mini Owl Felt Nursery Hanging Mobile (Ready to ship), nice, cute, well made and affordable nursery hanging mobile.This hanging mobile contains 4 Colorful handmade Felt owls and a Yellow star.
After several attempts to find a nice, cute, well made and affordable nursery hanging mobile, I decided it was time to do one prototype my own to satisfy those hundreds of moms everywhere looking for a handmade product with top quality, top design and at an affordable price. This is what I came up with:

All the owls and the star in this mobile are 100% handmade from my collection of original designs, . Owls and star are made of Eco-friendly felt, one per string and the string itself is colored cotton cord, 13" long from the top to the ribbon attached to the owl (17"-18" total length from top to bottom).
The mobile base is also handmade from flexible poly tube, wood sphere center and wood. The wood sphere has been drilled to get the tubes through and for better appearance. The owls come with a ribbon at the top form where they hang; the toys are made out of hypo allergic materials, 100% kid-friendly and absolutely safe . The mobile hangs from a cotton cord also, with a loop at the top for easy hanging.
all of the owls can face inward or outward based on your own preferences, you just need to twist the tubes 180 degrees; due to its simple design, it allows movement with the most simple breeze current and it is 100% noiseless, providing a great toy for a baby without any disruption to sleep.
Total dimensions: Width 11" X Height 17" (height not including cotton cord for hanging which is adjustable but total length is 16.5");
Owls dimension: 3.5" X 3.5"

This little piece of art is NOT A TOY! Please avoid hanging mobile that your little one can easily reach for small parts
All my toys are totally hand-stitched using only Eco-friendly felt from recycled post-costumer plastic bottles. I design all my toys from scratch, I made the sketch, then I cut the shape pattern, I decide the textures, cut the pattern and then I sew it!
I would love to hear from you, Contact me if you have questions, requests or any comment about my products. Be sure to see more of my work and items at http://mariapalito.etsy.com/.